Showy sedum is our September Plant of the Month for 2023. Also known as live forever, orpine, tall sedum, and butterfly stonecrop; it is one of the best late summer and fall perennials for pollinators. If you have not planted this perennial then you cannot imagine the amount of insects it attracts. Easy to grow and care for, showy sedum can live for decades and is often spread from neighbor to neighbor.
A native of Korea and China, showy sedum is a member of the succulents. This means that in drought conditions, the plant holds moisture in the form of saps or juices within the leaves or stems. Indeed, if you break a leaf you will find a watery sap inside. And the leaves are edible! I was totally shocked to learn that I could eat not only the young leaves, but the roots as well. Purslane, a weedy garden annual, is also a member of the sedum family and is often used in salads.
With all the new varieties or cultivars, it can be difficult to choose which one to plant. I like to trial a variety of plants in my garden, so I have several. The dark leafed varieties fascinate me, as well as those with white flowers. All are great for pollinators.
Culture and Care of Showy Sedum
Growing showy sedum is almost the easiest thing you can do. Growing up in North Central Kansas I did not know much about this plant; it was not one of the many in my grandma's flower garden (where I learned much of my garden lore). But I soon learned about it while at Kansas State University. And now I have planted it everywhere I have lived.
Preferring full sun but fairly shade tolerant, it can handle some low light conditions and still flower. And it is tough. While well-drained soil is best, they can survive and thrive, in clay, heavy clay, sand, or just sitting on top of the ground for 2 years. I know, for I did just that. Sometimes I do not have a place to plant all the stuff I bring home (typical gardeners?), so if it is tough, I let it sit on the ground. This can be done with sedums, hostas, daylily (more than 2 fans), and iris.
Once planted, showy sedum should be divided every 4 to 6 years to allow for the plant to be less crowded. Also, in areas where light is a concern, the plants can be sheared back by 1-2 inches before July 1st, to prevent legginess or falling over. Annual maintenance includes cutting the stems back either in the fall or late winter when the plant is dormant.
Pests
The only problems I have noted while gardening for over 30 years is aphids on showy sedum. In most situations, I just let them be and allow natural predators to take over. In some cases, where a client is more particular, I use Fertilome Rose and Flower Food plus Systemic, which prevents aphids from feeding on the foliage and does not affect flowering in late summer and fall.
Cultivars of Showy Sedum
We used to just call it all Autumn Joy, before all these new cultivars came about. And some folks still do. But there are a variety of cultivars to choose from, each with their own unique color combos or stature. In my own garden, I have 6 cultivars.
Green Leaved Cultivars
Neon has light green to green leaves with neon pink flowers which hold their color very well through blooming. It grows 2 feet tall and wide.
Matrona has dark green leaves with a red stripe and red stems. The flowers are reddish-pink and the plant grows 2 feet tall and wide.
Thundercloud is a dwarf variety with white flowers on a 1 foot tall and wide plant.
Carl has green leaves with neon pink to red flowers. It grows 1 1/2 feet tall by 2 feet wide.
Autumn Fire is an improved version of Autumn Joy with dark pink flowers. The plants grow 2 1/2 feet tall and 2-3 feet wide.
Autumn Joy is the old standard with light pink flowers. It grows 2 feet tall by 2-3 feet wide.
Double Martini has green leaves and dark red stems. The flowers are pink on 1 1/2 foot tall and wide plants.
Autumn Charm has variegated green and white leaves with pink flowers. Plants grow 1 1/2 feet tall and wide.
Lemonjade has lemon-lime colored flowers on 1 1/2 foot tall by 2 foot wide stems.
Coraljade has pink flowers on 1 1/2 foot tall by 2 foot wide plants.
Dark Leaved Cultivars
Back in Black has very dark purple leaves and stems with reddish-pink flowers. Plants grow 2 feet tall by 3 feet wide.
Strawberry Milkshake has dark purple leaves and stems with pink flowers. It grows 2 feet tall by 3 feet wide.
Night Embers has dark purple leaves with red flowers. It grows 2 feet tall and wide.
Tiramisu has bronzy leaves with reddish flowers on 1 1/2 foot tall and 2-3 foot wide plants.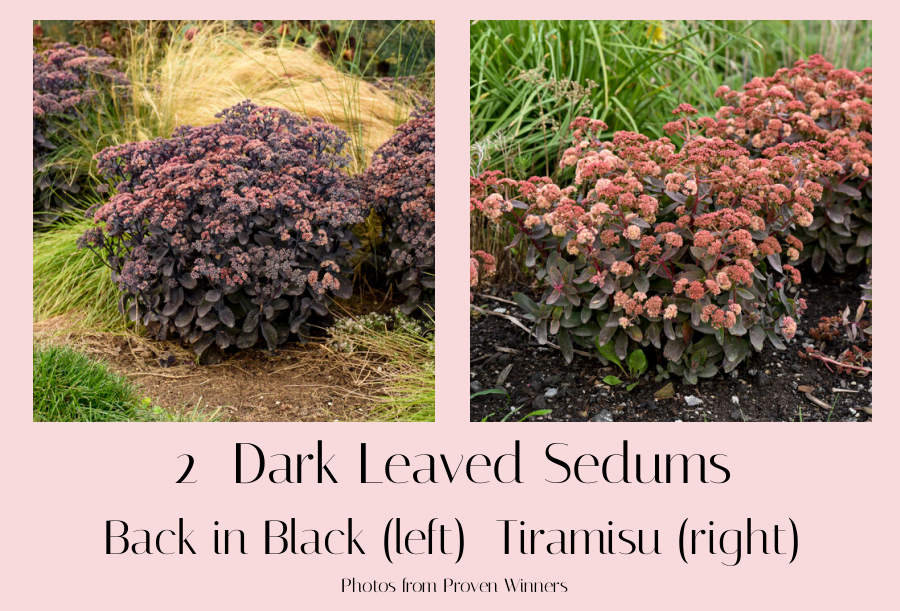 Pollinators of Showy Sedum
Flowers on most of the cultivars begin to open in August or early September, and continue blooming well into October, and sometime November. This gives them a chance to be visited by a wide array of insects, from butterflies to bees. And spiders, mantids, and other predators wait for a meal on the plants. Below are photos of the many pollinators to visit showy sedum in my gardens.

Companion Plants
While showy sedum can a does shine often by itself, especially in a mass planting, they can work well with a variety of plants. Use them in rock or xeric gardens, cottage gardens, meadows, or rocked areas (inorganic mulch).
Groundcover sedums
Mountain mints
Vernonia Iron Butterfly
Conclusion
Showy sedum is one of the best late season plants for pollinators. Mix it together with a variety of other plants and you will never go wrong. Even put by itself it flourishes. I love have it in my garden and giving plants of it away to my friends and family.
Happy planting!