Doug and Jeryl Grimm, Founders
After 30 years of farming in northeast Kansas, Doug & Jeryl started their greenhouse operation in 1993 with hydroponic tomatoes, blueberries, and a few flowers. Doug and Jeryl have recently handed down their business management to their sons, Kurt and Ted Grimm. Doug spends his free time caring for the arboretum, educating others about trees and continues to introduce new tree and shrub varieties. Jeryl keeps busy by helping with the greenhouse operations and enjoys spending her free time with their grandchildren.
---
Kurt Grimm, Chief Financial Officer
Kurt's responsibilities include managing landscape crews and installations, landscape customer service, human relations, and financial management of Grimm's Gardens. Kurt is certified in a number of landscape fields including National Concrete Masonry Association, Certified Aquascape Contractor, Kichler Light Pro, Techniseal Certified Applicator and is a licensed septic installer. He and his wife Hannah reside in Hiawatha, KS and have eight children.
---
Ted Grimm, Chief Operating Officer
Ted oversees our snow removal operation and can often be found operating equipment and installing hardscapes such as patios and walls.  He is Interlocking Concrete Pavement Institute certified and has attended classes on business management.  He always enjoys the challenge of a complicated project because the results are well worth it! Ted and his wife Miranda live in Hiawatha, KS and have two children.
---
Greg Strahm, Landscape Manager and Turf & Irrigation Specialist
Greg Strahm oversees our turf division, landscape crew, and works with clients to develop custom lawn maintenance packages. He resides in his native town of Sabetha, KS with his wife Jamie and their three kids.  Greg earned his degree in Turfgrass Science from K-State and soon after became a Golf Course Superintendent at the Landings Club in Savannah, GA. He loves being outdoors, fishing and spending time with his family.
---
Andrew Mitchell, Landscape Maintenance Foreman, Certified Arborist, & Horticulturalist
Andrew, aka the Kansas Gardener, is in charge of our landscape maintenance division. He graduated from Kansas State University with a Bachelor's of Science in Horticulture, Option Landscape Design, with a Minor in Agronomy. He is our on-staff horticulturalist with over 20 years of experience. Andrew is a Certified Commercial Pesticide Applicator, ISA Certified Arborist, and is the writer of the Grimm's Gardens Blog. In his spare time, Andrew likes to work in his numerous gardens, spend time with God and his family, travel, hike Kansas, and photograph plants and insects.
---
Nadine Champlin, Landscape Designer
Nadine is the owner of Prairie Place Designs, LLC and is our senior landscape designer. Prairie Place Designs LLC was created by Nadine in 2005 to provide affordable and professional landscape design in the rural areas of Kansas, Nebraska and Missouri. Nadine enjoys listening and working with customers to provide a personalized design. She has a Horticulture Science Degree with an emphasis in landscape design. She has experience working for numerous nurseries in Nebraska, Missouri and Kansas and specializes in Midwest design.
---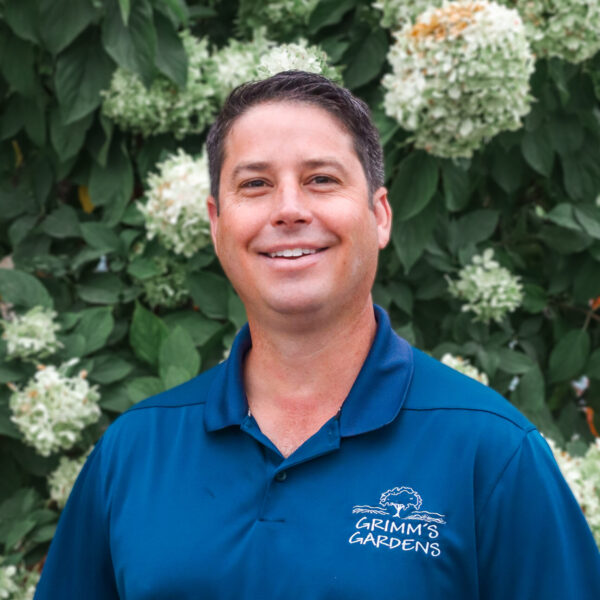 Paul Kiekhaefer, Landscape Designer and Landscape Foreman
Paul grew up in Falls City, NE and graduated from the University of Nebraska with a degree in Landscape Design. Soon after, he traveled nationally and globally to build golf courses for 9 years before moving back to his hometown in 2014. He loves to travel, spend time with friends and work on his house. He enjoys working with Grimm's Gardens because he can use his creative skills and work with his hands.
---
Tyler Ulrich, Hardscape Foreman
Tyler is involved in the majority of our hardscape installations here at Grimm's. He has been landscaping for the past 9 years and is our go-to guy for retaining walls, patios, and firepits. Tyler enjoys outdoor activities like golfing, fishing, hunting, and also enjoys spending time with friends and family.
---
Graham Howard, Landscape Foreman
Graham is the man behind the installations of our beautiful landscapes. Graham graduated from the University of Kansas State and received his Bachelors of Science in Wildlife and Outdoor Enterprise Management. When Graham isn't at Grimm's Gardens you can find him hunting, fishing, or playing slow-pitch softball.
---
Joe Bristol, Chemical Applicator
Joe has been a part of the Lawn Maintenance crew since 2016. Joe grew up in central Montana and made the move to Kansas several years ago. Joe's favorite part about working for Grimm's Gardens is how they are a family run business. He also loves the variety of tasks each day brings. Joe loves to spend time with his kids and enjoys hunting, fishing, and being outdoors.
---
Michele Rodvelt, CFO and Office Manager
At Grimm's Gardens, Michele manages our financial activities including accounts payable, accounts receivable, DOT compliance, and human relations. Michele has an Associate's Degree in Business, but has also self-taught much of her accounting knowledge. Michele loves spending time with her husband, three daughters and one son.  She also enjoys gardening, boating on the lake and traveling.
---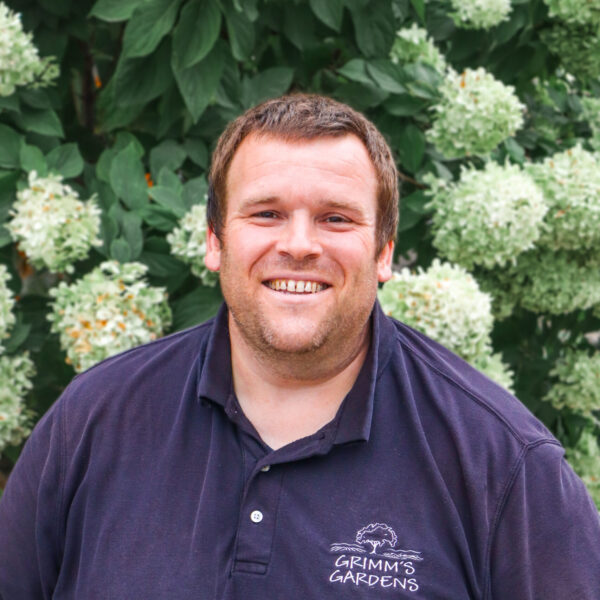 Jonathan Tyler, Webstore Manager
Jonathan is a Sabetha, KS native and oversees our webstore operations. Jonathan's duties include managing online inventory and purchasing for the webstore. Jonathan attended Kansas State and studied Social Science. In Jonathan's free time, he enjoys reading and gardening, amongst other interests.
---
Holly Edelman, Administrative Assistant, Marketing and HR
Holly works behind-the-scenes in the Grimm's Gardens office. Her responsibilities include managing the marketing for Grimm's Gardens as well as Human Resources. She also loves bringing in her baked goods for the Grimm's staff to enjoy. She studied Culinary Arts in Topeka, KS and graduated in 2014. Holly and her husband Trevin decided to settle down in their hometown of Sabetha, KS. In her free time, Holly enjoys baking, traveling, and se
---
DeAnn Michel- Supervisor for Nebraska City location, Landscape Designer & Customer Relations
DeAnn was born and raised in Nebraska City. After a 30 year career as a Dental Assistant and several years working part time for Grimm's Gardens, she decided to follow her passion and join the Grimm's team full time in 2021. DeAnn received her education at Dana College, University of Nebraska and Creighton University. She enjoys camping, reading, & spending time in her greenhouse and garden.
---
Summer Warren, Assistant manager at Nebraska City
Summer has worked part time at Grimm's Gardens in Nebraska City for 5 years, and now works on the landscape install crew in the Nebraska City area. She has four wonderful girls who she loves to spend time with. Summer has a degree in criminal justice that she has never used. She enjoys being outside as long as it isn't freezing cold; hobbies include baking, reading, gardening, learning and being with family.
---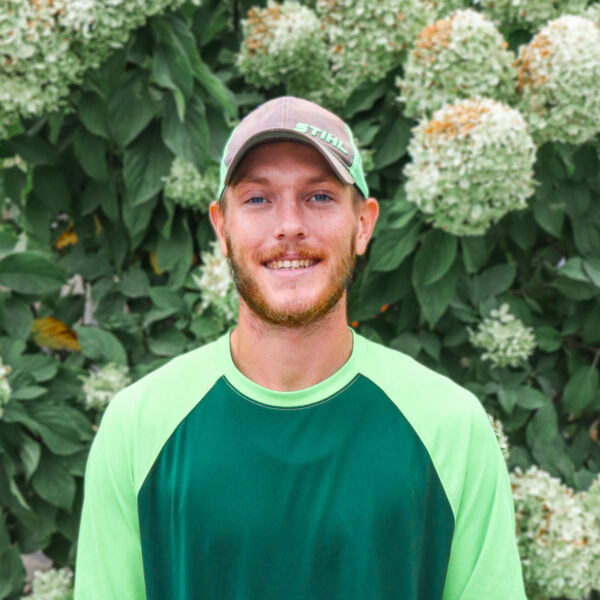 Casey Martineau
Casey is head of our Tree Department here at Grimm's Gardens. He specializes in tree climbing and has several years of experience. When he's not hanging out in trees, Casey enjoys spending time in the great outdoors with his family.
---
Tami Minge
Tami is an Administrative Assistant at the Grimm's Gardens office. Her responsibilities include data entry and bookkeeping. Tami moved back to her hometown of Sabetha after residing in Nebraska for a number of years. Tami keeps busy with her two kids, husband, and dog. She enjoys watching her kid's activities, camping, and reading.