Ornamental onion is our July Plant of the Month. One of my favorite border plants, ornamental onions really came big on the scene in 2018, with 'Millenium' as the Perennial Plant of the year. Because of the excitement surrounding this cultivar, we have a plethora of ornamental onions now available in the garden center.
But what makes it so special? Before we look into that, some history and background are necessary. Ornamental onion is a member of the Allium genus, and in the Lily Family. There are 88 species of alliums native to North America, with 5 species in the Central great Plains. Among those native to our area are ramps, chives, prairie onion, nodding wild onion, and autumn onion.
The plants we call ornamental onion are mostly hybrids, containing several parents. These could be chives, nodding onion, and many others. But we are talking about those hybrids primarily, and not any true species, except the nodding wild onion, which can be a valuable part shade plant.
Ornamental onions are heat and drought tolerant, make great border plants, attract a wide variety of pollinators, and are deer-proof, rabbit-proof, and insect and disease free.
Cultivars of Ornamental Onion
Choosing a cultivar to plant in your garden has become a chore, now that everyone has their own variety. Right now, there are at least 5 cultivars on the market, with more likely coming down the pipe. I have yet to see a pure white variety, so maybe that will be next. All of the cultivars are very similar in size, color and hardiness in Zones 4 to 8.
Pollinators of Ornamental Onion
In my garden, 'Millenium' and 'Mongolian Gem' are the only 2 cultivars I have, though I also have nodding wild onion (Allium cernuum). I have borders of 'Millenium' surrounding several beds in my Sunny Cottage Garden as well as along the Meadow Garden. One of the best things about ornamental onions is that they can be divided easily and spread through the garden. From my original 2 plants, I got more than 150 plants in 3 years.
Where to Plant
Because they are small in stature but great in performance, the border of the bed is the best place for them. Ornamental onions grows best in well-drained soils, full sun, and hot conditions. While they are drought tolerant, I have seen some wilting if the drought is prolonged into multiple weeks. But even when not flowering, the green, grass-like leaves are decorative enough to replace liriope in the garden.
Also, a massing of ornamental onions can be a show-stopping spot in the garden. You could create a river of them through a bed, or plant them along a dry stream. Add them to rock gardens, pollinator gardens, and the potager border. They work almost everywhere. If you have shade, plant nodding wild onion, because it can handle part shade.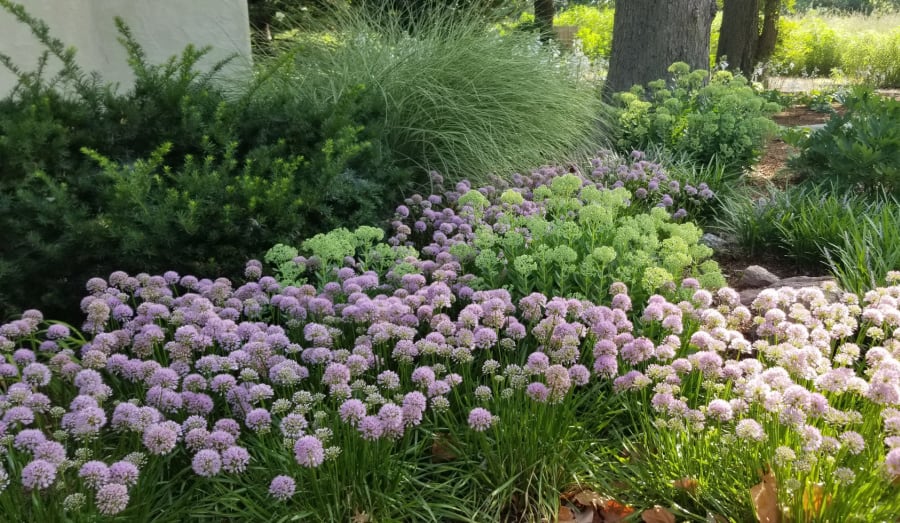 Maintenance and Care
One of the best attributes of ornamental onion is that it is very low maintenance. I have not had any issues with pests or diseases, and rabbits and deer stay away from the spicy foliage and flowers. In late autumn, after the plant dies to the ground, you can remove the old foliage for next season. Then all the maintenance will be done.
Companion Plants of Ornamental Onion
Even though it is a border plant, there are several tough, hardy plants that compliment both the grass-like texture and purple or pink flowers. The following is a list of good companion plants for them in the garden.
Daisy 'Real Neat'
Stachys 'Hummelo'
Vernonia 'Iron Butterfly'
Conclusion
Ornamental onion is not only a show-stopping perennial for the border and mass plantings, it is also the most pest and trouble-free plant in the garden. Easy to divide, easy to care for, and easy to grow, ornamental onions prefer the heat of my backyard, and I know they will grow in your hot and full sun sites too.
Happy planting!