Native grasses have always fascinated me. Living in the Great Plains, and growing up in the Smoky Hills Region of Kansas, I got to find grasses from two separate ecoregions. The tall grasses of the east and short grasses of the west seemed to collide in my backyard. Now, I use native grasses and sedges on a daily basis, working here at Grimm's Gardens.
Native grasses flourish in landscapes because they are adapted to our climate and the ecosystem we build for them. Even though a wide array of insects, from butterflies to beetles feed on these grasses, they are resilient enough to look beautiful. We cannot plant enough of them.
Native grasses should be planted in all manner of landscapes. Use them in rocked or mulched areas. They should be planted in meadow gardens, Monarch Waystations, pollinator habitats, and all other landscapes. There are sizes and types for everyone's situation, from shade to sun.
Choosing Native Grasses
When you are looking at native grasses in the nursery, look for plants that are not root-bound. This means that you can easily remove them from the container and there few circling roots. Also, there should be no other grasses or weeds growing in the same container. Some nonnative grasses can be aggressive and take over some native grasses in the container.
Look for plants that are not pale or sickly green, or striped when they should not be. Also, there should not be a bunch of fertilizer sitting on the surface of the soil, as native plants do not need any fertilizer.
Now let us look at what native grasses you should get. I am going to go over grasses and sedges for shade, sun, and water gardens.
Native Grasses for Sunny Locations
When you are preparing to put native grasses into your landscape beds, you need to look first at site. While many of these grasses can grow in a variety of soil conditions, they need to have the right sun. Most grasses that grow in full sun will also grow in part shade, but not the reverse.
So it is important to choose the right plant for the right place. Blessed as we are, we have a multitude of grasses and cultivars to choose from. The little bluestems alone have more than 9 cultivars to choose from. So how do we pick the right one? We dive into each species and look at the individual properties.
For sunny locations, such as meadow gardens, pollinator gardens, and south and west facing beds, there are 6 native grasses I want to focus on. All these grow best in Zones 4 to 7. There is one for every sunny situation. Let us take a look.
Prairie Dropseed
Over the years, I have been greatly impressed by this grass. We started using it as a replacement for fountain grass some 7 years ago, because fountain grass was weedy and often died after spring cutback. Prairie dropseed is native throughout the upper Midwest and Great Plains region, from Kansas to Canada, east to Michigan.
I love prairie dropseed's open, airy habit. It is a little bigger than the dwarf fountain grass we replace with it, but that is not a problem. We just give it more room in the landscape. Prairie dropseed grows 2 to 3 feet wide by 2 feet tall. If left through the winter, birds such as goldfinches will eat the seeds.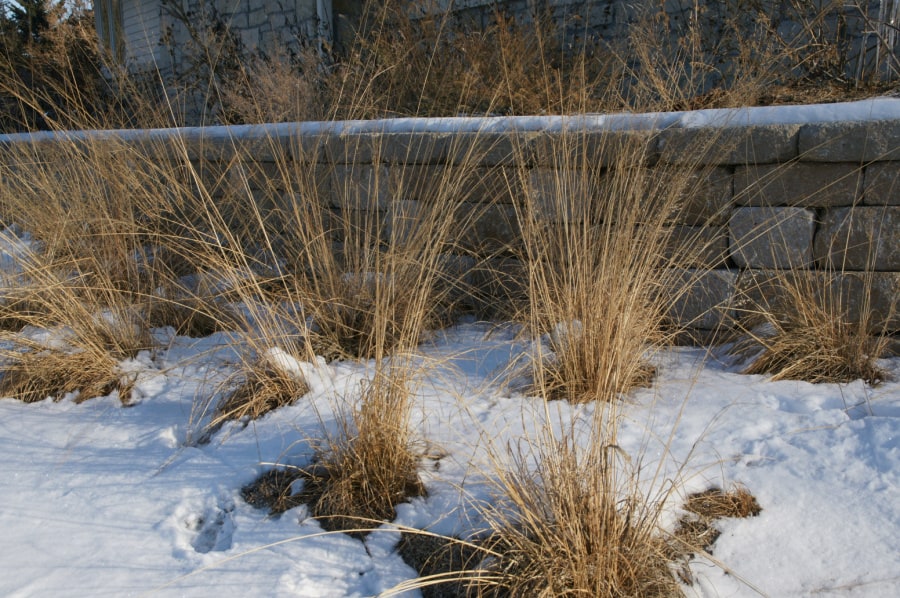 Big Bluestem
If you are looking for a tall, show-stopping native grass for the landscape, look no further. Big bluestem can reach heights of 7 to 10 feet tall. My uncle once for a 13 foot tall flowering stalk of it. This is one of the tall grasses of the eastern prairie.
Big bluestem is native across all of eastern North America, from the Great Divide eastward to the Atlantic Ocean. Because it is so widespread, there are several cultivars in use in the landscape industry today.
'Blackhawks' – this cultivar boasts outstanding dark purple to almost black leaf blades and flower stalks. It forms a nice clump of up to 24 inches wide, and the plant comes in between 5 and 6 feet tall.
'Red October' – this cultivar has some wonderful characteristics. It grows 3 to 4 feet wide by 6 feet tall. In spring, the leaves are a handsome green with red edges. As the plant matures into autumn, all the leaves turn a dusky red color.
'Indian Warrior' – this cultivar grows 2 to 3 feet wide in a nice clump and 5 to 7 feet tall. It turns bright red in autumn. I have noticed some bending or falling of the stems in this cultivar; it does not stay upright as well as other cultivars.
Switchgrass
Almost every landscape now uses some cultivar of switchgrass. This is one of the most versatile native grasses. It is tolerant of wet feet and yet, it very drought tolerant. There are cultivars ranging in height from 3 to 9 feet tall. I have used several cultivars of switchgrass in my landscape for years.
Our common switchgrass, Panicum virgatum, is native from the Great Divide eastward across all of the United States. But there are some regional differences. In Texas for example, we find much larger native grasses than we do in Maine. Thus, our larger cultivars come from down south.
'Shenandoah' – I love this cultivar! It grows 2 to 4 feet tall and 2 feet wide. 'Shenandoah' has red edges on the leaf blades all year long. Fall color is tan to brown, but if you need a smaller, upright grass to replace a nonnative, this is the best.
'Hot Rod' – this is a newer cultivar that grows 3 to 4 feet tall and 2 feet wide. It is dark green in the summer and turns burgundy in autumn.
'Heavy Metal' – this cultivar grows 4 to 6 feet tall by 2 to 3 feet wide. It has steel-blue-green leaves from spring to summer and turns tan in autumn.
'Northwind' – this cultivar was a selection from Northwind Perennial Farm and is a very nice cultivar for landscapes. It grows 5 to 6 feet tall and 3 to 4 feet wide. It stays very vertical, without flopping even in high winds.
'Dallas Blues' – this huge cultivar needs some support in the landscape. I have one in my Meadow Garden at home and it gets 8 feet tall by 5 feet wide. But if flops. Because of its size, it does not have the ability to support itself.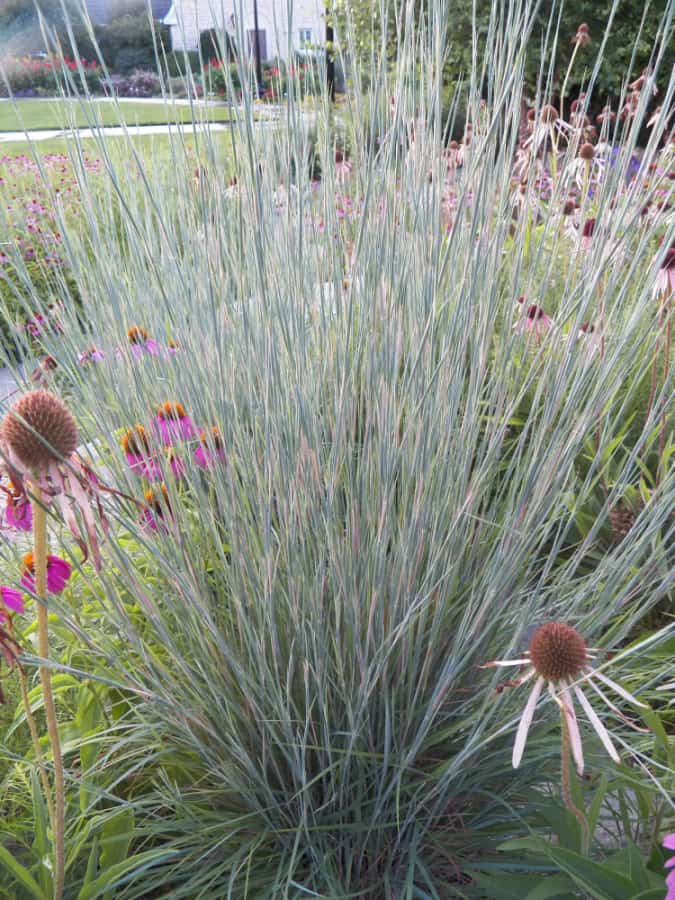 Little Bluestem
Even though it is called bluestem, this native grass does not share a genus with big bluestem. I actually think they miscalled this one when naming. However, little bluestem is the state grass of Kansas and Nebraska. Just like big bluestem and switchgrass, little bluestem is found growing across most of North America.
Little bluestems can be found in all types of habitats, from prairies to ditches. Most cultivars were selected for their fall colors, but some newer ones have been chosen for habit. Finding a cultivar for your landscape has never been easier with the following selections.
'Standing Ovation' – this cultivar is an upright type, growing 2 to 3 feet tall by 2 feet wide. It has blue-green leaves in summer and reddish-orange fall color.
'Twilight Zone' – this is a newer cultivar that has an upright habit. It grows 3 to 4 feet tall by 2 feet wide. The leaves are silver-green with purple edges in summer and it turns burgundy in autumn.
'Blue Paradise' – this selections has an upright habit, though it does flop some at the end of the season. It grows 3 to 4 feet tall by 2 feet wide, with silvery-blue-green leaves. In fall it turns burgundy.
'Blue Heaven' – this cultivar is an upright growing type, that grows 3 to 4 feet tall by 3 feet wide. It has blue-gray green leaves in summer and ages to burgundy pink in the fall.
'Blaze' – this cultivar is a great one for massing in the landscape. It can get a little floppy, but has outstanding red fall color. It grows 3 to 4 feet tall by 2 feet wide. The leaves are silver-green in summer.
Sideoats Grama
Here is a native grass with style. When I first added this to my landscape some 12 years ago, I never knew the impact it would have. The leaves of this native grass are silver-green, rising just 10 inches from the ground. It is the seedheads that are amazing. They rise from the leaves in midsummer and grow another 16 inches tall.
The flowers and then the seedheads grow along the side of the flower stalk, and look like oats. Hence the name sideoats grama. The only problem with this grass, so far as I can see it, is that it reseeds easily. However, if you plant it in an established meadow garden, then there is less a chance for it taking over.
Sideoats grama is native throughout the Great Plains from Canada to Mexico, as well as the desert southwest. It is a tough grass that can handle drought and heat, as well as flood and cold.
Native Grasses for Shade
When you start talking to folks about their shade gardens, most are thinking hosta and coral bells, not native grasses. Well, actually, there are several native grasses that look great in the shade, as well as many sedges. I have observed these native grasses and sedges growing in the woodlands near my home in northeast Kansas.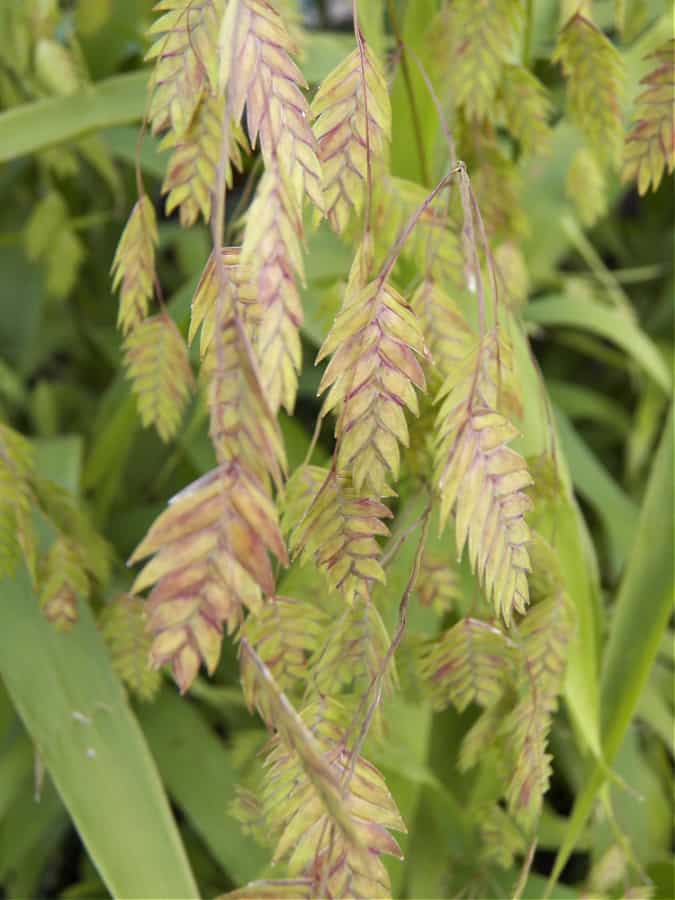 Northern Sea Oats
I first came across this native grass when working on gardens in Manhattan, KS. It is a great plant for part shade. Also called wood oats, this woodland plant grows 2 to 3 feet tall and 2 feet wide. It has broad, 3/8 inch wide, gray-green leaves. The flowers and following seedheads are flat, and dance in every breeze.
This is a great native grass to use in ornamental arrangements, or with cut flowers. I plant it sparingly in my native shade borders, because it does self-sow easily and can be weedy. However, if you plant it into an established garden, it will not take over.
Bottlebrush Grass
This is species of the wild-ryes group of woodland grasses. The reason I mention it is because it is a unique grass that grows in moist or rocky woodlands, and is adaptable to the shade garden. Plant it into a native shade garden that is less formal than most. It can form colonies, but also mixes well with other native woodland plants.
Woodland Sedge
The woodland sedge, Carex blanda, is a common sedge from the eastern Great Plains to the Atlantic seaboard. It grows in part sun to filtered shade. It grows 1 foot tall and wide, with 3/8 inch wide, dark green leaves.
I like to keep some woodland sedge in my shade garden because it adds texture that broad-leaved plants cannot give.
White-Tinged Sedge
This sedge, Carex albicans, is another woodland grass-like plant. It is native from the eastern Great Plains through the Midwest and along the Atlantic seaboard. It grows 6 to 10 inches tall and wide. I am including it in this list of native grasses for the shade because it grows mainly in dense forests with only filtered sun. It has very fine blades and the early spring flowerheads give it its name.
Native Grasses for Wetlands
When discussing native grasses, I think it is important to include some wetland species, because gardeners are building rain gardens and bog gardens. I was just starting my horticulture career at the end of the last pond-building craze, which ended in 2007. Now, many gardeners are choosing lower-maintenance ideas such as a bog garden, which takes care of itself.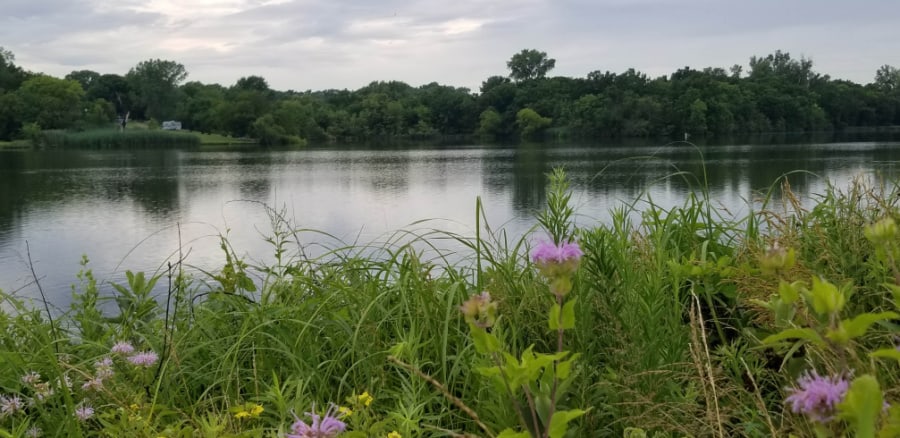 I am including 4 species of grass and sedge that are great plants to plan on using for your wetland site. These are also drought tolerant, so use them for a rain garden too.
Prairie Cordgrass
Also called slough-grass, this native was recently moved from its own genus to that of the dropseeds, Sporobulus. It is a large grass, cut and used for hay by early settlers and farmers in the Great Plains. I believe this is the grass mentioned in By the Shores of Silver Lake by Laura Ingalls Wilder.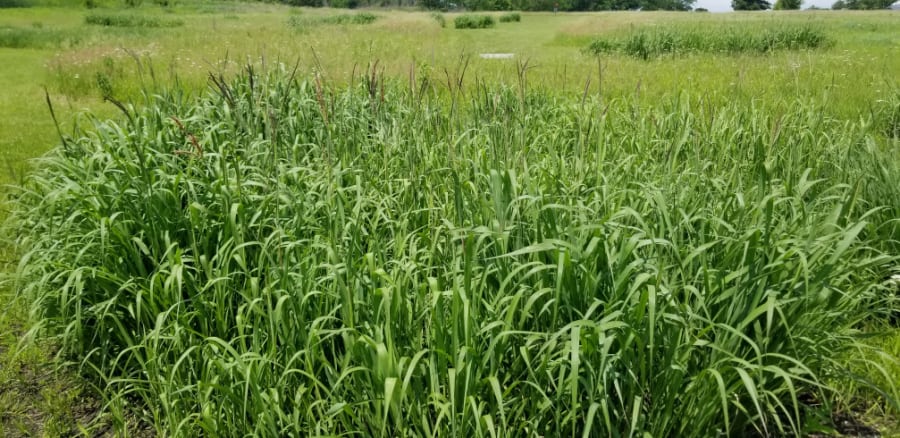 It grows native mainly from Kansas northward to Canada, and into the Upper Midwest. I find it growing most often in ditches and low-lying areas where water collects, but does not always stay. It grows 3 to 8 feet tall and 4 feet wide, but also forms large clumps when given space.
Rice Cutgrass
If you asked any gardener not a part of a native plant society, they would be unlikely to have ever heard of this grass. Rice cutgrass grows along lake and stream edges, throughout the United States. In masses, it is a delicate, yet beautiful grass. The edges of the leaves feel sharp when you run your fingers along them.
This native grass grows 2 to 5 feet tall, but is fairly floppy and does best in massing along the edge of a rain garden or bog.
Bottlebrush Sedge
Unlike bottlebrush grass, this native prefers wetland edges. But I have found it quite drought-tolerant in my own gardens. It grows 1 to 3 feet tall and forms a nice 2 foot clump. The flower clusters and resulting seedheads are what gives it its name. Bottlebrush sedge is a nice addition to the rain garden or bog, or even use it elsewhere in the garden.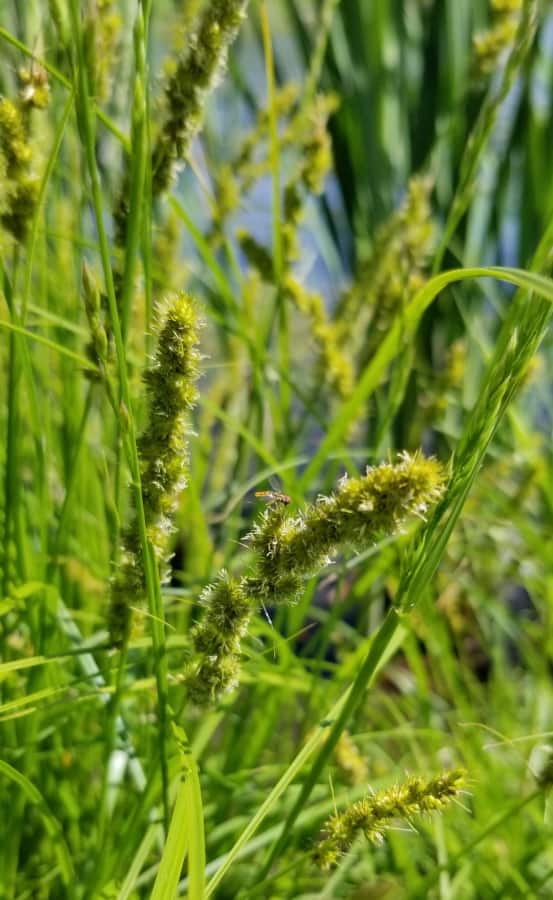 Fox Sedge
This native sedge is a nice, ornamental addition to the garden. Fox sedge grows 1 to 3 feet tall in a clump and is found wild in wet areas. It is drought tolerant, however, so will work for the rain garden. I planted fox sedge in my own gardens and love it. But then, I love most of the sedges.
Conclusion
Native grasses can and should be planted in everyone's landscape. They attract native insects including skipper butterflies, bees, and more. If planted in a Meadow Garden or masses, you may get some native prairie birds such as the Dickcissel or eastern meadowlark.
Happy planting!