Blazingstar is our September Plant of the Month. These perennials are one of my all-time favorite flowers, because the first one I learned to identify bloomed around the time of my birthday, in September. Since then, I have learned about the many species of blazingstars, which start flowering as early as July and continue into October.
Also known by their Latin name, Liatris, and the common name gayfeather, blazingstars are a North American native plant. They are not utilized near enough in the landscaping industry. Across America, there are 36 species of Liatris. Here in our region, we can successfully grow 10 species of blazingstars.
But why do I love them so much? Let us look at the reasons for putting them into the Plant of the Month category.
Easy to grow
Pollinators love them
There's one for every spot in the landscape (except bog gardens)
Few pest or disease problems
Great for floral arrangements
Of the 10 species we could grow here, we really want to focus in on the most readily available ones. There are 5 of these. Let us look them first.
Blazingstar Species to Grow in the Central Great Plains Region
Spike Blazingstar – Liatris spicata
First to bloom is the spike gayfeather or blazingstar. These grow natively east of the Mississippi River throughout the eastern U.S. Because of their short and compact habit, they are commonly used in landscape. Spike gayfeather spreads slowly by seed and develops corms (tuber-like roots) that set above the soil surface. They are very easy to transplant because of these corms (other plants with corms include crocus and gladiolas).
Nurseries have developed a few cultivars of Liatris spicata, including 'Kobold', 'Alba', 'Floristan White', 'Floristan Violet', and 'Silver Tip'. In my own garden, I like to separate the corms of 'Kobold' and mix them with corms from 'Alba', so I have plants that produce white and pink flowers together.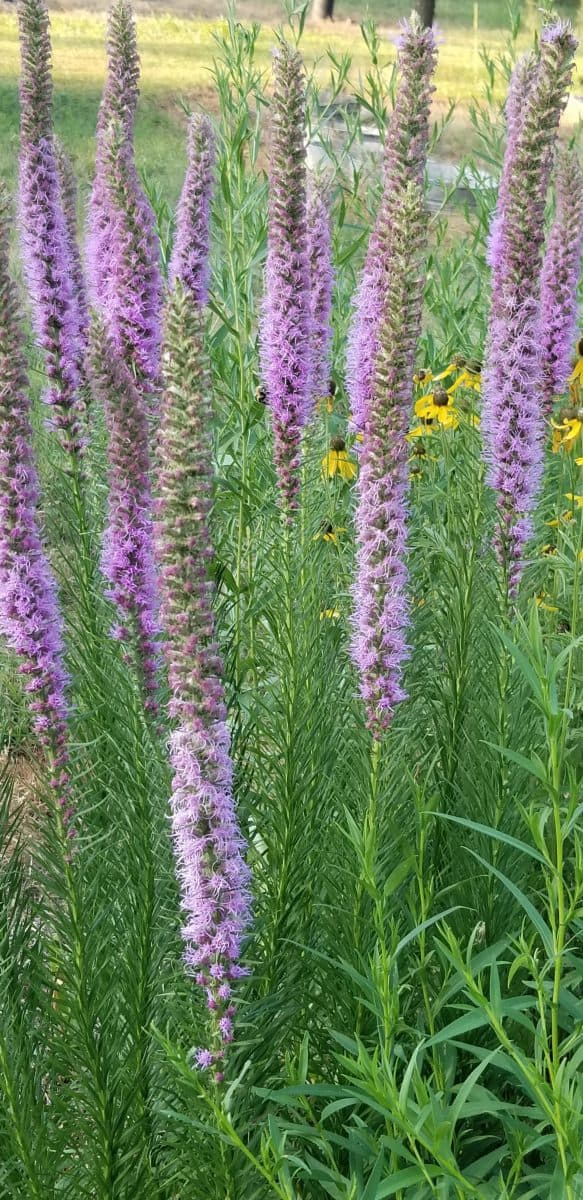 Spike blazingstars begin to bloom late June or early July here in Zone 5b. The flowers start opening at the top of the floral spike and continue downward. This usually take 2-3 weeks. During that time, the flowers are visited by many pollinators. Spike blazingstar grows 1 to 2 feet tall and wide in a clump. They are drought tolerant and prefer full sun. They do not line to be in a wet area, and will often rot if overwatered in the nursery.
Next in the round of blooms is this tall blazingstar. As soon as L. spicata finishes, this one begins. It holds its flower spikes straight and tall, often growing 3 to 4 feet tall. In my own gardens, it stays straight without flopping, but I have seen it flopping in other landscapes.
Natively, it grows from Texas to Canada, throughout the eastern Great Plains. Extremely tough and drought-tolerant, it grows best in full sun and well-drained soil. The Chicago Botanic Garden did a trial of Liatris in 1996 with 2 known cultivars; 'Alba' and 'Alexander'. Because of their height, I usually see more pollinators on these than any other species. They do not seem to spread by seed very well in the garden.
Meadow Blazingstar – Liatris ligustylis
I first found this one in a catalog of native plants when preparing my design for our Roy Diblik-inspired garden plots in the Grimm's Gardens Arboretum. Deciding to use them, I was very pleased with the large number of butterflies they attracted while in the plots.
Native to the Northern Plains and into Canada, they grow well here in Northeast Kansas. Meadow blazingstar is similar in growth habit and size of prairie blazingstar, but blooms almost a month later in September. They grow 2 to 3 feet tall and spread slowly by corm formation.
Different from other Liatris in our area, they can handle some wetter soils and are great plants for a rain garden or dry streambed, where water flowers through but does not stay.
Dotted Blazingstar – Liatris punctata
There are actually 2 subspecies of this blazingstar growing in my area of Northeast Kansas. One produces corms like most other Liatris species, while the other produces a deep taproot. But they both seem to love dry areas. If you have a rock garden or xeriscaped landscape, this is the plant you need to have.
I find it growing mostly on dry ridges or limestone outcroppings, well away from water flows. It is native to the Western Great Plains, from Texas to Canada. Growing only 1 to 3 feet tall, it sure does get covered by butterflies and other pollinators when it blooms in September. I do not think it is very available in the Green Industry, yet there are mail order nurseries that do sell it and its seeds.
The final plant in this series is the almost weedy button blazingstar. Also known as rough gayfeather, this plant does very well in full sun to part shade conditions. Indeed, I found it growing in the woods of Atchison County, KS, 2 years ago during the 2019 KNPS Annual Wildflower Weekend.
In my own gardens, it grows 3 to 5 feet tall and almost always flops. But that is okay, since the pollinators love it no matter how it grows. It also spread well by seed and develops a corm that is easy to transplant to other areas of the garden. The flowers are like small pink-purple buttons on the plant, hence its name.
It begins to bloom in late September and usually blooms until the first frost, somewhere around October 15th. It prefers well-drained soil, but is adaptable to heavy clay soils. I like to mix it with Tallgrass Prairie natives like grasses, so it does not flop so much.
Pollinators of Blazingstars
When it comes to plants for pollinators, members of the Aster Family, including blazingstars, attract a wide arrangement of insects. Butterflies and bumblebees especially like the lavender flowers of the Liatris species. I have put together a collage of photos of insects pollinating the flowers.
Pests and Diseases of Blazingstars
When it comes to an easy to grow plant, you have found it here. There are no major insect pests of Liatris. There are a few moth and butterfly species that occasionally use them as a host plant, but I have found little evidence of that even. Most lepidoptera species that could use them, use something else in the Aster Family instead.
The Third Flower Moth is one of the moths that specializes in the Liatris genus, but I have not seen major damage from it. Others that us it include Checkerspot butterflies, Salt marsh moths, and Woolly Bear moths.
I have seen some leaf spots on Liatris spicata, but only in the nursery or landscape when it is on irrigation and gets too much water. In the wild, I have not seen any disease issues with any of the local Liatris species.
Companion Plants of Blazingstars
When it comes to using blazingstars in the landscape, I do not think they should be planted alone. Most perennials have a short flowering time, and do best when planted in diverse plantings with other perennials that can extend the flowering period all while balancing together. Look at the following photos of blazingstars growing in flower beds with other plants. Below the photos is a list of the best perennials for matching with them.
Conclusion
Blazingstars should be incorporated more into butterfly gardens, Monarch Waystations, meadow gardens, and general cottage garden style landscapes. They attract a wide range of pollinators, are tough and drought-tolerant, and can take blazing hot conditions. Add some to your landscape today.
Happy planting!