Walker's Low catmint is our Plant of the Week for this week. Catmint (Nepeta) is a low-growing, perennial that has great qualities in the landscape.
I started working with Walker's Low in 2006 as a landscape designer in Manhattan, KS. We used a lot of low maintenance plants that were very hardy and drought tolerant. And this catmint is all of that!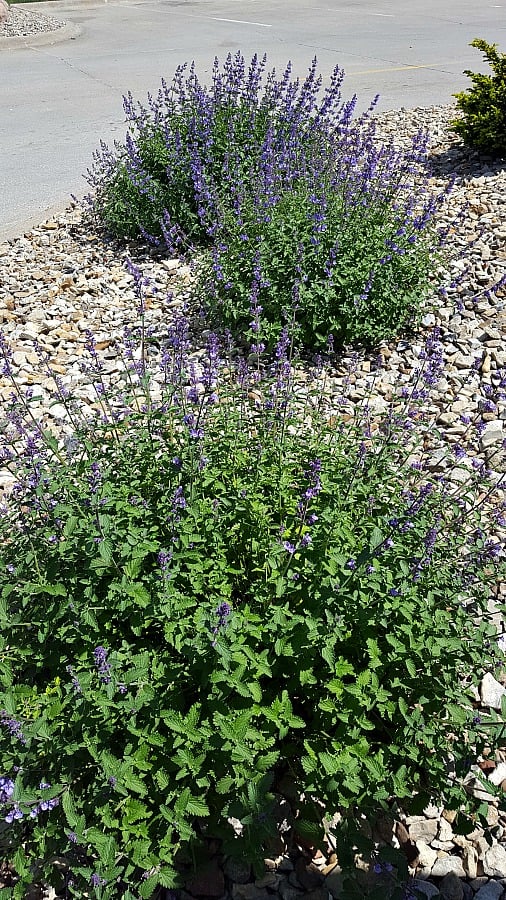 Catmint grows in Zones 4-8 and can be planted in full sun. This cultivar was named the 2007 Perennial Plant of the Year for its outstanding bloom time and toughness in the landscape. https://perennialplant.org/page/PPOY
I liked to use catmint in rock gardens, as a border, or in massing where long color was needed. It blooms from May to September, although it should be cut back by 1/2 in July. It grows 1 to 2 feet tall by 3 to 5 feet wide.
Although the flowers are slightly fragrant, they attract a large number of bees, especially honeybees and bumblebees. Hummingbirds will also feed on the nectar.
As a landscape designer, I loved using catmint Walker's Low in my designs. It always provided a pop of long-lasting color in the garden, and bees love it! – Andrew Mitchell, former Landscape Designer for Viridis Gardenscapes
Catmint can be cut to the ground in either late fall or early spring, whenever it is most possible for you. As a landscape maintainer, I like to cut it back in fall, because I am too busy doing leaf pickup in spring.
You can find catmint Walker's Low in our online store at http://www.grimmsgardens.com/shop/. Or you can come and find it at one of our 2 gardens centers. Our main location is at 2991 Goldfinch Road, Hiawatha, KS and our other store is in Nebraska City, NE.
Happy planting!