It's getting to be that time of year again. Everyone thinks that the heat of July and August immediately stops weeds and plants from growing, meaning they need no maintenance. Unfortunately, this is the time when we cut back plants to produce new blooms and buds and keep plants thriving. While September is considered as good a month to trim shrubs as June, we start cutting perennials and some shrubs back as early as July.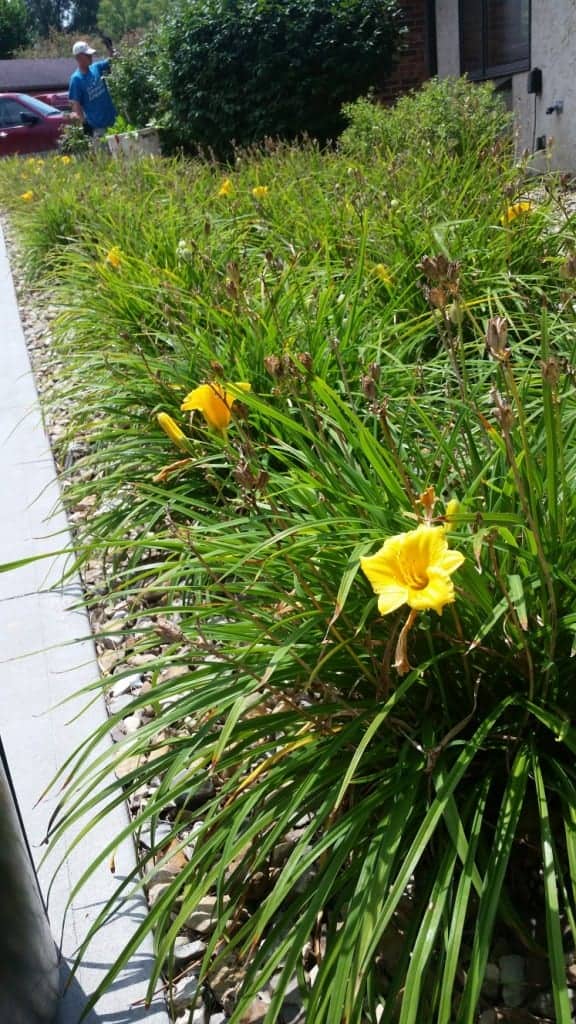 What then needs cut back and how much do I do? I learned a long time ago that it is important to cut back daylilies to produce a new, vibrant set of blooms. Most reblooming daylilies will have a large flush of flowers early in summer, followed by sporadic here and there shots of blooms. By cutting the foliage and spent flowers down in August or September you can usually get the plant to set a new flush of blooms without harming the root system or winter hardiness of the plant. Also, we have noticed an increase of aphids on daylilies in the past few years, and this late summer cutback helps control the aphids by disrupting their life cycles.
Another perennial we cut back in July or August is salvia. Many of our customers have the variety 'May Night', which is a long bloomer but is typically overwhelmed with spent flowers in late summer. Therefore, we cut the plant down to a set of basal leaves and a couple of new flower stems. This cut back rejuvenates the salvia and it will flush out new growth and flowers until frost.
Nepeta, also called Catmint, is yet another perennial that needs to be cut back in summer. This aggressive perennial may spread out four to five feet from the base and benefits from a trim. We often cut back as much as two thirds of the plants, but usually only by half. This hard trim forces the plant to produce new growth and new flowers. In hotter years, we may cut catmint back in July and September and still receive new showers of flowers.
If your bearded iris or herbaceous peonies are looking sad or tired, they too can be trimmed down. The iris should be cut down to about three inches and the old bloom stalks and leaves removed. Iris can also be divided and moved after July fourth. The irises are dormant, meaning they are no longer sending nutrients to the roots for next season's growth or flowers. The best way to divide irises is to dig them up, and either pull or break them apart so that each new plant has a set of leaves and a large rhizome. They should be replanted eight to sixteen inches apart.
Herbaceous peonies are also now dormant and can be cut to the ground if they look bad, and/or divided. Many peony plants can be left as is for structure in the garden; they often look like a small shrub. To divide peonies, dig up the plant (you probably will leave some tubers in the soil) and use a sharp knife or shovel to break root sections apart. Plant these new sections twenty-four inches apart. Peonies should be divided every five to ten years depending on variety and bloom show.