The seven son tree is our September Plant of the Month for 2023. This is one of my all-time favorite trees. Ever since coming to Grimm's Gardens in 2011, I have loved using and selling this tree. It is a great plant for a variety of locations, is drought tolerant and durable, and has 3 season interest. I hope you will come to love it as much as I do.
Originally from China, it may not even exist in the wild anymore. It was brought over to the US in 1980 and promoted by the Arnold Arboretum. Its smaller size and adaptability has made is a valuable tree for many landscape in the Midwest, Great Plains, and East Coast regions. Hardy in Zones 4 to 8(?), it grows 15 to 30 feet tall and wide. The best specimens are multi-stemmed, but it can also be trained into a single trunk tree.
The seven son tree is one of the latest blooming trees in the landscape, setting buds on new growth, like a panicle hydrangea or buttonbush. The habit or shape is open and spreading. New growth emerges early, sometimes getting nipped by a late freeze, but it always recovers. The leaves are narrow and bright green through summer. In late August and into September it erupts with pollinator loving white flowers. These are the best for fall moving monarchs, bees, and wasps. And the best feature of all is its peeling bark which is very pretty in winter.
Where to Plant Seven Son Tree
I like to use this tree as a specimen within the landscape. Many of my customers have asked for a small tree, and this is the perfect thing. While it is not small enough to go under the eaves of a house, it will fit under power lines and can be used as an understory tree. But I think it is best by itself with some evergreen shrubs behind to highlight it during winter.
In my own gardens, my seven son tree is directly opposite of my front door. Here, it shines from the living room window. As of yet, no birds have used it for a nest site, but I have hope. Also, it is a fast grower when young, filling the space quickly. My tree was planted in 2017 as a shrub and had reached 12 feet by 2023. As it matures, the tree gains trunk girth, slowing down on growing up.
Plant your seven son tree in full to part sun. It can handle a variety of soils and high pH. Also, it is drought and heat tolerant.
One thing I almost forgot is the calyxes. After the petals drop, the calyxes behind them stay on, and they are red. This gives the tree a look as if the flowers have turned red and are still going. Added interest!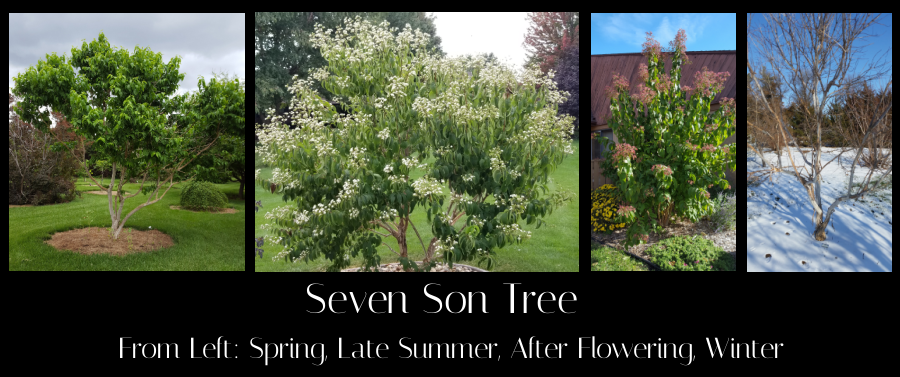 Pollinators and Pests
The seven son tree is a great plant for pollinators in late summer. I always see a variety of insects, from bees to butterflies to wasps feeding on the flowers. Monarchs use the flowers before their southward journey. And it is one of the few plants I regularly see red spotted purple butterflies on. Some of the insects that regularly feed on the flowers include bees, butterflies, moths, wasps, flower flies, and beetles.
As for pests, I have not seen anything eating the leaves. Not even grasshoppers. The only problems it has are with late freezes in early spring, which can freeze back the early emerging leaves.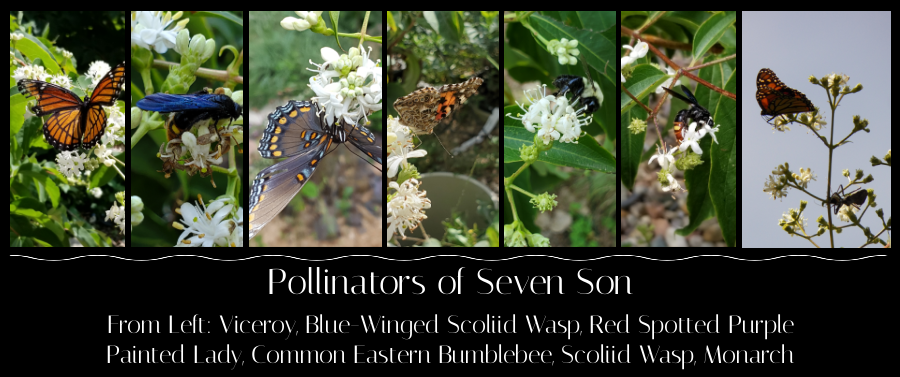 Conclusion
The seven son tree is one of the best small trees for the landscape. It can be used where many larger shade trees cannot. And it is a great addition to the butterfly garden. Or put it with some evergreens for added winter interest. I love it no matter where it is in the landscape.
Happy planting!