Purple flowers are very popular among insect pollinators. Especially those of the mint family. The 5 plants from the mint family that are landscape and garden favorites are as follows: hummingbird mint (agastache species), Catmint (Nepeta species), Perennial Salvia (Salvia species), Russian Sage (Salvia yangii), and Lavender (Lavendula species). Looking closely at the flowers and stems of these plants, it would be easy to see how they are related.
The purple flowers all have a similar shape and make up of the various flower parts. The stems are square and the leaves and floral parts are strongly scented, all things that mint family members have. The 5 purple flowers that we are going to look at are easy to grow, drought tolerant, and are loved by pollinators. Including hummingbirds.
All of these plants have few to no pest problems and are very deer and rabbit resistant, thanks to their oil glands and aromatic smell.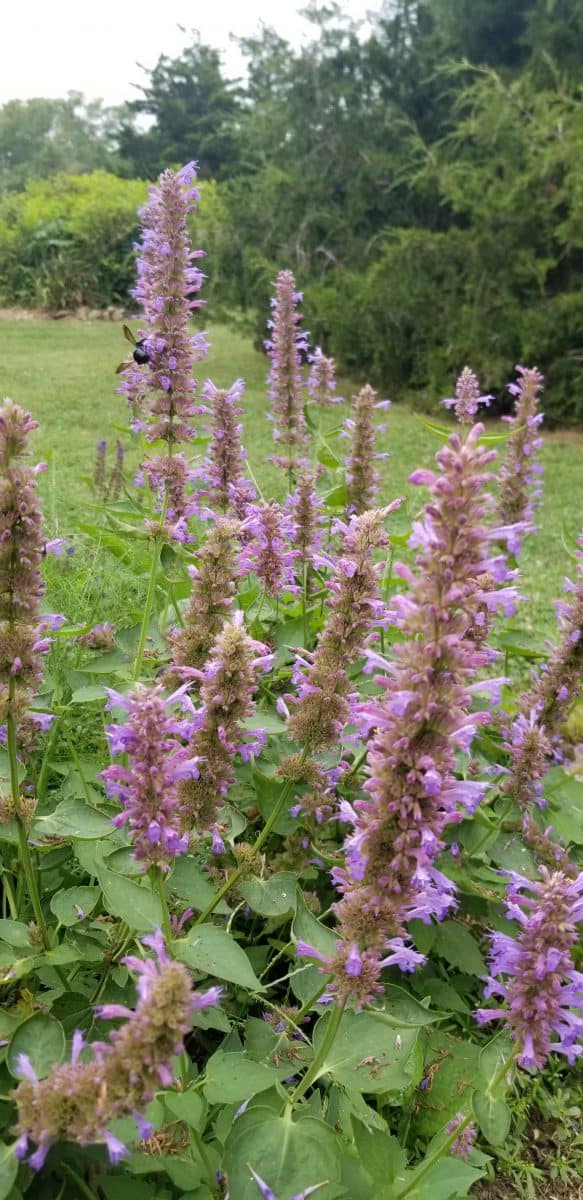 Hummingbird Mint (Agastache species)
Native to North America, hummingbird mints come in a wide range of flower colors, including purple, orange, and red. They grow in a wide variety of habitats, from deserts to woodlands. And they are one of the toughest garden perennials. The purple flowers of eastern American species of Agastache are great for attracting hummingbirds, bees, and butterflies.
There are new cultivars of hummingbird mint coming out almost every year, now that plant breeders see their value. Many of these are perfect additions to the garden. There are a few moths that use this plant as a host, but the purple flowers are prized for attracting pollinators.
Catmint (Nepeta species)
Catmints have purple flowers, and they are one of the most widely used, drought-tolerant perennials. They are great in flower borders with organic mulch or rock, and do not need to be irrigated once established. Very cold and heat tolerant, they love to be abused, but attract a great number of bees, butterflies, and other pollinators.
While catmints are not native to the United States, they are widely used in landscapes. Their silvery-gray green foliage paired with the sometimes white but usually purple flowers are great. Because of the availability of new cultivars, gardeners everywhere are using them. Try some of the following cultivars.
Perennial Salvia (Salvia species)
Even though there are many flower colors of salvia, such as mauve, pink, and white, the purple flowering cultivars standout, thanks to the standard cultivar 'May Night'. While many salvias are native to North America, these perennial salvias prized by gardeners in the Central great Plains and Midwest, are not. But they have proven to be drought tolerant, long lived, and resilient plants.
Perennial salvias attract hummingbirds, butterflies, and many bees to their purple flowers. And there are lots of new cultivars showing up to the garden party. One thing I like about perennial salvias is that they have few if any pest or disease issues. One thing I dislike, at least about 'May Night', is that it needs deadheading in July to bloom the rest of the summer.
Russian Sage (Salvia yangii)
Formerly separate from the perennial salvias, Russian sage has lavender purple flowers that attract bees, butterflies, and other pollinators. The foliage is silver-gray green and very aromatic. If you have issues with strong smells, this is not the plant for you. However, it is very drought and heat tolerant, and responds well to being left alone.
Russian sage grows by underground rhizomes, and can spread to fill an area quickly. It is easy to cut back, whether in spring or fall, with pruners or shears. There are no pests or diseases that are problematic with this plant. The following cultivars are excellent additions to the garden.
Lavender (Lavendula species)
Our last plant with purple flowers, lavender is one of the toughest perennials for drought that I know of. Mildly hardy to zone 5, lavender can handle heat and drought without so much a a drooping leaf. A native of the Mediterranean region of Europe, lavender's purple flowers are attractive and floral.
I love using lavender to border beds in my Sunny Cottage Garden as well as in the kitchen potager. Lavender flowers and leaves are used for making oils, soaps, and even jelly. This is a plant that I like to plant and leave alone. If I water it, I know it may die. So do not put lavender on drip irrigation!
Conclusion
Any one of the above plants with purple flowers would be an excellent choice for the gardener who tends to kill plants by neglect. Plant them, water once, and leave them alone is my motto with these plants. And it has worked wonders in my gardens!
Happy planting!