Oregon Trail maple is our Plant of the Week for the last week of October. This is our signature tree, everyone around us knows us for this special plant.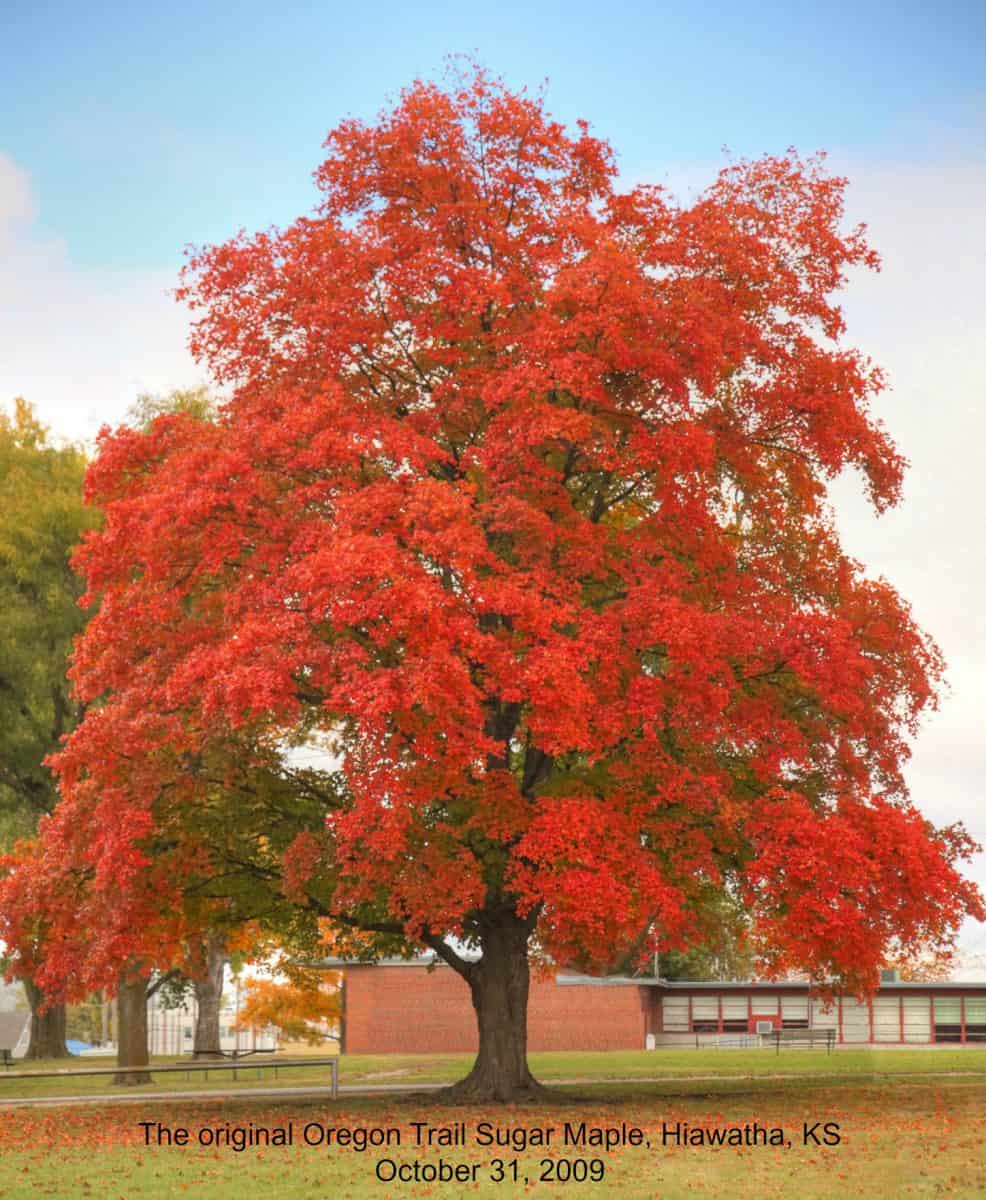 About Oregon Trail Maple
Hiawatha, KS has long been known as the City of Beautiful Maples. Over the decades, many sugar maples were planted in Hiawatha, and they have done very well in Northeast Kansas. It is as close as you can get to driving through New England in autumn.
In the early life of Grimm's Gardens, Doug Grimm found and developed a sugar maple from the maples of Hiawatha. After a city-wide selection and vote, 2 trees were chosen for testing. Only one of those trees was selected for its ability to graft well to a maple rootstock.
This tree is now known as the Oregon Trail sugar maple (also known as the Hiawatha Maple). It has thick, leathery green leaves that do not tatter in strong winds. The tree's branches are limber and it had almost no breakage during our 2007 Ice Storm, that left Northeast Kansas without power for more than 2 weeks.
The Hiawatha maple grows 40 to 60 feet tall and wide in full sun. The fall foliage is an excellent orange to red. It can be planted in Zones 4 to 7, and does well in most soil types.
I love the Oregon Trail Sugar Maple because it is a strong maple that has a dark green, glossy leaf that turns a brilliant red in the fall. The thick leaf cuticle helps fight off diseases, making it one of the best options for fall color – Nick Haedt, Certified Arborist at Grimm's Gardens
Oregon Trail Maple Pests
Maple trees in general do not have many pests, here in Northeast Kansas. They do got various infestations of aphids that cause aesthetic damage, and attack from some borers and beetles. But there is no big pests here.
In other parts of the country, they may have issues with Asian Longhorned Beetle or Spotted Lanternfly. https://extension.psu.edu/spotted-lanternfly
Where to buy Oregon Trail Maple
You can find maple trees of various sizes at our 2 garden centers. Come to 2991 Goldfinch Road, Hiawatha, KS or Nebraska City, NE. You can also buy smaller sizes from our webstore http://www.grimmsgardens.com/product-category/trees/large-trees/
Happy planting!