Perennial salvia is our May Plant of the Month. I have to admit, this was not one of my favorite perennials for a long time. Mainly because of overuse of 1 cultivar in the landscape. I do not like plants that get too much attention; we need more diversity in our gardens. But now, after many new cultivars have emerged on the scene, I am starting to like perennial salvia.
There are 48 species of salvia native to North America, some perennial and some annual or biennial. Most of the perennial salvias you find at garden centers are going to be hybrids or cultivars of introduced species from the Mediterranean region. They come in a wide range of colors including purple, lavender, pink, fuschia, white, red, and bi-colored.
Why is perennial salvia the plant of the month? Because it is a profuse bloomer, has few pests and disease problems, and attracts many pollinators, including hummingbirds. We will look at several reasons to add perennial salvia to your garden.
Reasons to Add Perennial Salvia to the Garden
If you have not already done so, this section should help you to decide to add perennial salvia to your garden. I was a skeptic at first myself, but they are easy to grow and maintain, and come in a wide range of colors. Most of them grow about the same size, between 18 and 30 inches tall and wide. And they mostly bloom from April to July, then can be deadheaded and bloom again from August to October.
1. Perennial Salvia is Colorful
No matter which color you choose, you will be delighted with it. I really love the pinks and fuschia varieties. I have a lot of other pinks in my garden already (ornamental onion, blazingstar, coneflower) and a lot of yellow to match it (rudbeckia, perennial sunflowers, helenium). There are many new pink salvias coming to garden centers, as well as some old standards.
The purples are the most commonly used salvias. Indeed, the overuse of salvia 'May Night' was my reason for disliking perennial salvia for so long. But it is easy to grow and maintain, and purple is a standout color in the landscape.
White definitely needs to be more widely used. Can you imagine adding a white salvia to a bed with purple salvias? It would make both colors stand out even more!
2. Perennial Salvia has few Diseases or Pest Problems
Of course, not having any problems could mean it is not the best plant for a diverse landscape that is being used to attract insects, birds, reptiles, and mammals. But it is very good for pollinators (more on this below). Salvia is a member of the Mint Family, which means it is highly fragrant and this may be why there are few insect pests.
Salvias, like many other garden plants, can suffer from occasional bouts of powdery mildew, which usually occurs because of wet conditions on the leaves, or poor airflow. In many gardens, airflow is a constant problem.
As for pests, I only know of a few insects which eat the leaves, including copper underwing moths, grasshoppers, and some beetles. But for the most part, they are carefree and easygoing plants when it comes to pest control.
3. Perennial Salvia Attracts Pollinators
As members of the Mint Family, there are lots of pollinators which visit salvias. Mainly bees and butterflies, but also flies, moths and even hummingbirds come to the long flowers of salvias, for nectar and to spread some pollen around. Bumblebees especially love the dark purple to blue salvias and you will see many there on a warm summer day. Below are photos of insects visiting salvia flowers.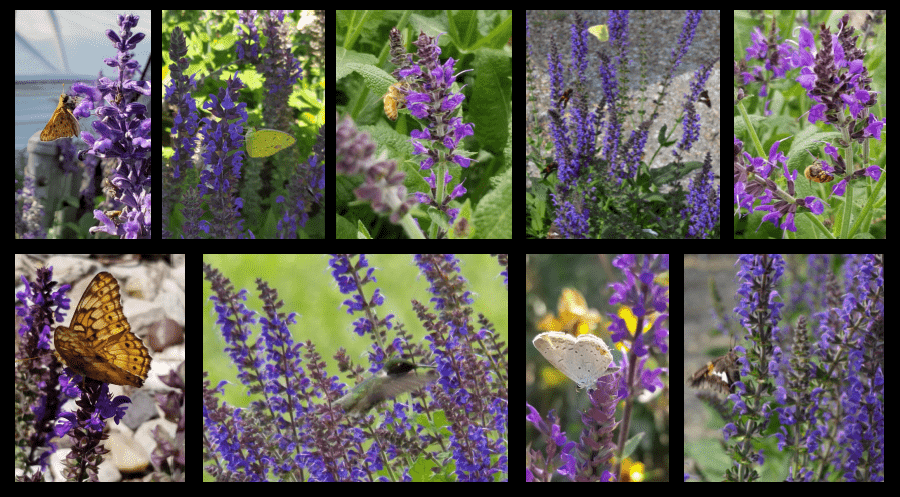 4. It is Easy to Grow and Maintain
One of the reasons I have started liking salvias more is that they are easy to grow and care for. Salvias are native to areas which do not get a lot of excess rainfall, making them quite heat and drought tolerant. Mid to late summer in the Central Great Plains is typically hot and dry, with daytime temps in the 90s to 100s. Sometimes we go 3 weeks without a decent rainfall. Salvias stand up to all this.
As far as maintaining perennial salvias, I just remove the top leaves and flower stalks in July, and let the plant regrow and rebloom. In autumn or early spring, during the dormant season, I cut back the old foliage to the ground before they awake for a new year. If I fertilize them at all, it is in early spring with a perennial and annual fertilizer.
Companion Plants for Perennial Salvia
When it comes to planting salvias in the garden, make sure they are in full sun, well-drained soil (can handle tough soils), and have good companion plants around them. Look for the following, heat and drought loving perennials to plant nearby.
Conclusion
As the May Plant of the Month, perennial salvia can be a stand alone plant in the garden, or mix it with other heat and sun loving plants. Brighten a corner of the garden border with a white, pink, or purple salvia and expect to get many new pollinators, including hummingbirds, to the garden.
Happy planting!