All across the state of Kansas, catalpa trees are in full bloom. These trees are a marvel of color in the wooded areas, along railroads, and in towns. When the railroads were first being laid across the state, they would plant groves of catalpa, which grow quickly, along the way to provide fuel when coal was running low. Catalpas have also been a favorite in town for their showy flowers, large leaves, and upright growth habit.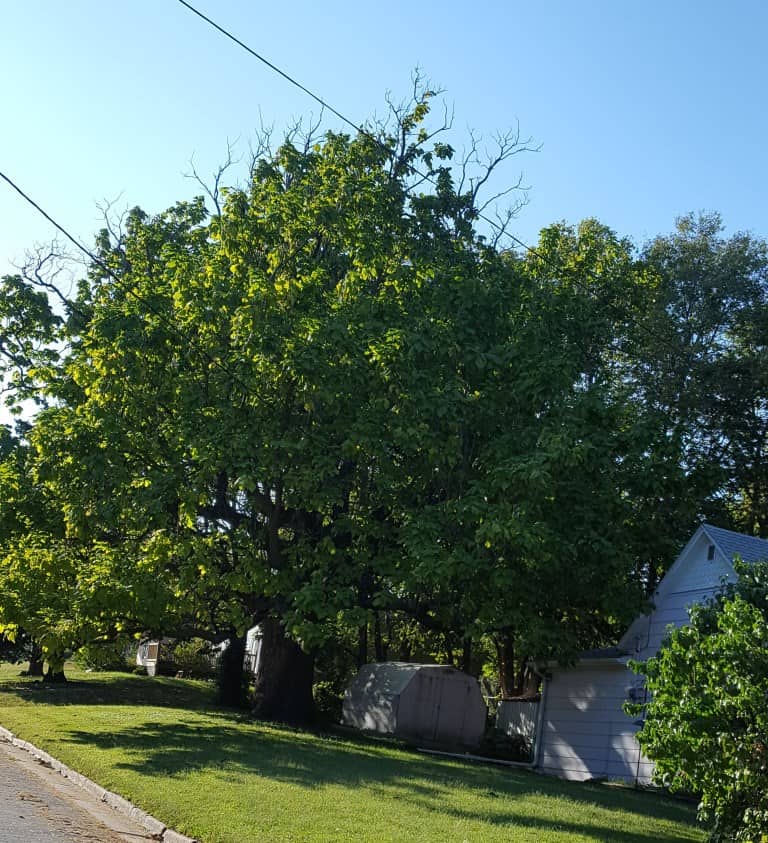 The northern catalpa (Catalpa speciosa), grows in full to part sun, can withstand drought and heat, and grows 20 to 40 feet wide by 40 to 60 feet tall. However, there are some exceptions-the state champion runner-up in Horton, KS is 60+ feet wide and more than 70 feet tall. The current state champion is in Holton and also exceeds the normal height and width numbers.
Catalpas grow quickly, making them good choices for landscapes. Several selections have been made for growth habit and leaf color. There is a purple catalpa which has emerging leaves with a purple coloration. 'Heartland' catalpa was discovered by Doug Grimm and has much narrower growth habits that the species.
Another feature that catalpas are well known for are their seedpods. The long pods can be 1 to 3 feet in length and are often used as swords by children. The flowers are borne in May and persist for a few weeks. Bees and other pollinators frequent the flowers. While fall color is not exceptional, the yellows can be attractive in a landscape full of orange and red.
Check out our webstore for more information and purchasing for Catalpa 'Heartland'
Happy planting!