The 2010 Perennial Plant of the Year was Baptisia australis, Blue Wild Indigo. It was also picked to be the 2020 Kansas Native Plant of the Year. It is a great, native perennial for the garden and landscape. Add it into a spot and let it be, it will outlive many other perennials.
About Baptisia australis
Baptisias are some of the longest living perennials in the garden. These tough as nail plants can handle drought, flooding, heavy clay soils, part shade to blazing hot sun, and are deer resistant as well.
Baptisia australis comes up in early spring and begins to show flower buds on large, sturdy stems. The flowers are purple-blue to blue and sometimes may have some genetic variation from cross-pollination with other species. While in bloom, it is a magnet for bumblebees and honeybees.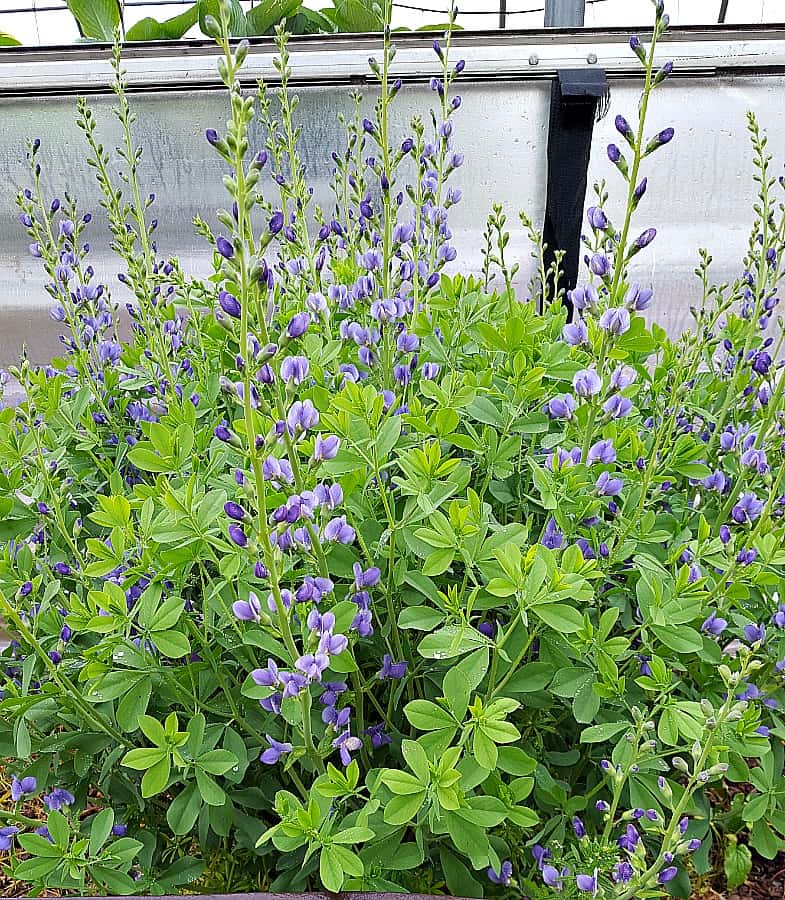 Blue wild indigo grows 4 to 6 feet tall and 3 to 4 feet wide in full sun in Zones 5 and 6. It is native to the Great Plains and the Midwest. Use it in pollinator gardens, meadow gardens, and borders. The flowers can be used as cut flowers and last long.
What butterflies or moths use baptisia as a host plant?
While it is unknown exactly how many moth species may feed on baptisia, we do know that one is quite aggressive and can cause significant defoliation. That moth species is the Genista broom moth. While birds and other natural predators will usually handle this pest after it becomes a problem, I do not recommend any chemical treatment.
Butterflies whose caterpillars feed on baptisia include the Clouded Sulphur, the Orange Sulphur, the wild indigo duskywing, and the eastern tailed blue butterfly. These caterpillars do not feed aggressively and are never a problem.
What pollinators use Baptisia australis?
Besides butterflies and moths, there are many bees, bumblebees, and other insects that use this plant for pollen and nectar. The insects below are the biggest pollinators of baptisia:
Silver spotted skipper
Sweat bees
Bumblebees
Honeybees
Eastern Tiger Swallowtail butterfly
When do I cut back false indigo plants?
The nice thing about false indigo plants is that they usually can be just knocked over when they dry out in late fall. The plant stems are hollow and break off at the crown (soil level) when dead.
What plants pair best with false indigo?
I like to pair baptisias with striking, upright foliage plants and perennials that bloom after the baptisia is done. These plants include the following:
If baptisia is long lived, what perennials are short lived in the garden?
Just because a perennial is short lived, does not mean that it does not belong in the garden. Most short-lived perennials are great reseeders, sowing themselves across the garden. The following perennials are considered to be short-lived reseeders:
Missouri Black-Eyed Susan
False sunflower
Rudbeckia triloba