Dianthus Firewitch is our first Plant of the Week for May. This low-growing, perennial groundcover is perfect for borders and rock gardens. It spreads slowly across the ground, filling in cracks and spaces between other plants and rocks.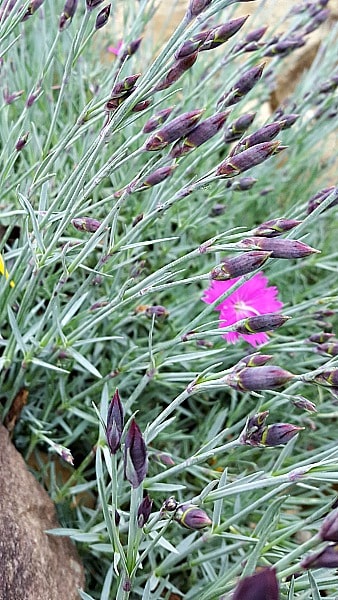 It has blue-green, glaucous, needle-like leaves that add a fine texture to any garden. The whole plant grows 6 to 10 inches tall with 4 inch flower stalks. The bright pink flowers begin to bloom in late April or early May. Like other members of the Pink family, they are very fragrant, with a spicy aroma. https://www.wildflowers-and-weeds.com/Plant_Families/Caryophyllaceae.htm
The flowers are not generally visited by bees or other pollinators. Despite that, the whole plant is very attractive in the garden.
Firewitch does not have any significant pest issues, although it does sometimes get powdery mildew. It does reseed somewhat in the garden, but seedlings are easy to pull out.
The only thing I do for maintenance on them is to deadhead the spent flower stalks with hedge clippers. This sometimes encourages new flowers to pop up, but only in wet summers.
Dianthus Firewitch has blue-green foliage that works as the perfect backdrop for its brilliant pink blooms that blue from May to July – Paul Kiekhaefer, Landscape Designer at Grimm's Gardens
You can find Dianthus Firewitch at our garden centers in Nebraska City or outside Hiawatha, KS. Or shop for dianthus online at https://www.grimmsgardens.com/shop/
Happy planting!