Knowing which native plants are blooming when can help you choose the right ones for your garden. I love natives for a lot of reasons. Every since I was a child I have sought out the wild places for walking and hiking, seeking native plants and their associations with animals and insects. And I found a love for moths which I did not know I had. Moths use native plants primarily as their host plants, meaning they lay eggs on them, and caterpillars feed.
Natives blooming in early spring covers March and April, of which there are not many suited for landscape use. I have done seeding and transplanting of many natives and nativars (cultivars of natives) for over 15 years, and I have picked the best ones for landscape use in the Central Great Plains region. Benefits of using natives instead of alien plants include:
Adaptability and resistance to climate alterations and change.
Drought and heat tolerance (most species)
Insect pollination partnership (meaning they are pollinated better by native insects than alien plants)
Insect host plant partnership
Sustainability in the landscape
Native Plants Beginning to Bloom in March And April
While early spring is not considered a time for perennial or annuals native plants, there are a lot of shrubs and trees blooming. For now, I am focusing on native plant perennials, which can be used in garden or landscape. There is a wide range of natives I could talk about if I included trees, and I may at some point.
Sun Loving Native Plants
These native plants can be found growing in open areas such as prairies and meadows, in different parts of the US. Some of them I have growing in my backyard. And others I have added to different parts of my garden, such as the Sunny Cottage Garden, Meadow Garden, and Entry Garden.
Pasque Flower – Pulsatilla patens
Native to the northern parts of the US, pasque flower does quite well in our gardens in the Central Great Plains. I have added it to my Entry Garden as well as the Sunny Cottage Garden. In the front, it is always the first thing to bloom, and I love seeing its bright face each March. It does continue to bloom in April as well. Bumblebees and honeybees are usually the earliest pollinators, and they visit the flowers. Pasque flowers grows 6 to 8 inches tall and 10 inches wide.
Field Pussytoes – Antennaria neglecta
You would not even know these were there, unless you were either looking for them, or knew that they were there. I was pleased to discover pussytoes in my planned kitchen garden in 2014. Early in spring, these tiny plants send forth tiny flower stalks. Looking like tiny white broccoli florets, the flowers attract small bees and butterflies. And, the plant is a host for the American lady butterfly. Plants grow in large colonies, spreading outward. The leaves rise only a few inches high, and the flowers go to about 4 inches.
Prairie Smoke – Geum triflorum
A strange plant among other Geums, prairie smoke is native to the Northern Plains and Mountain West. The leaves are feathery and look similar to soft ferns. But the flowers are perhaps very strange. They hang down, barely open, looking like they are about to burst forth, but never doing it. And then the seedheads, for which the plant gets its name, are there. Prairie smoke is a short lived perennial, growing 6 to 10 inches tall and wide. The flowers are forced open and pollinated by bumblebees.
One of my most recommended natives, I use it as a groundcover in open landscapes. But in the prairie, it blooms among the grasses and forbs. There is a small prairie remnant not far from my house, less than an acre, in which rose verbena can be found. Starting to bloom in April, it forms a carpet of pink flowers. And it keeps blooming until October. Most specimens I have observed grow 3 to 8 feet in diameter, and 10 inches tall. Bees, butterflies, and skippers all visit the flowers.
Golden Alexanders – Zizia aurea
If you are looking for a native plant to host black swallowtail butterflies, look no further. Being a member of the Carrot Family, golden Alexanders can host the pretty butterfly which often feeds on parsley, dill, and fennel in our vegetable gardens. The flowers are golden yellow, blooming on plants 2 to 4 feet tall and 1 foot wide. While it will grow in glades, it prefers to be in open, high quality prairie. I have it in my Meadow Garden. A variety of bees, wasps, flies, and beetles come to the flowers.
Fremont's Leatherflower – Clematis fremontii
This is by far one of my favorite plants. While my list of favorites is long, this one heads the list. I have always been fascinated with this plant, found almost exclusively in the Smoky Hills of North Central Kansas. Growing up there, I saw it often on the prairie remnant owned by my grandparents. While it is a prairie plant, I have successfully added it to my Entry Garden and meadow. The flowers are pollinated mainly by bumblebees. It grows 12 to 18 inches tall and wide. And the flowers are usually purple outside and cream inside.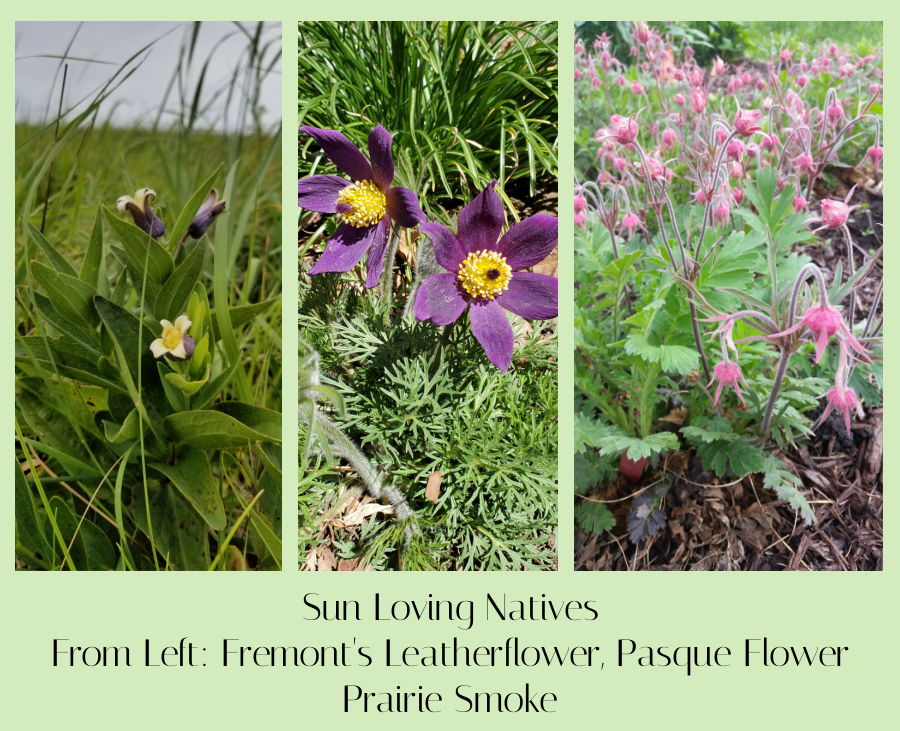 Shade Lovers or Ephemerals
These native plants all start blooming in April, and some are considered spring ephemerals, doing their growing, flowering, and seed production all before the trees leaf out. All of them make great garden plants, as long as you take time to get them established in the right spot.
The bluestars include around 3 species suitable for gardens. In recent years, they have become more popular as companies like Proven Winners have developed cultivars. In my gardens, Amsonia hubrichtii, the threadleaf bluestar, has petite sky blue flowers in April which only last about 3 weeks. But the finely cut texture of the foliage is what makes it a great plant. Bluestars, depending on species and cultivar, range in size from 2 to 4 feet tall and wide.
If you are looking for a long blooming spring perennial, then look no further. Woodland phlox not only blooms for around 6 to 8 weeks, it has small blue flowers on 8 inch high plants. I like to use it for a groundcover or border in my Woodland Border Garden, which separates my yard from the neighbors to the east. Plants grow around 12 to 16 inches across. Long-tongued bees and some butterflies visit the flowers. And, I have seen the flowers be blue, lavender, pink, or white.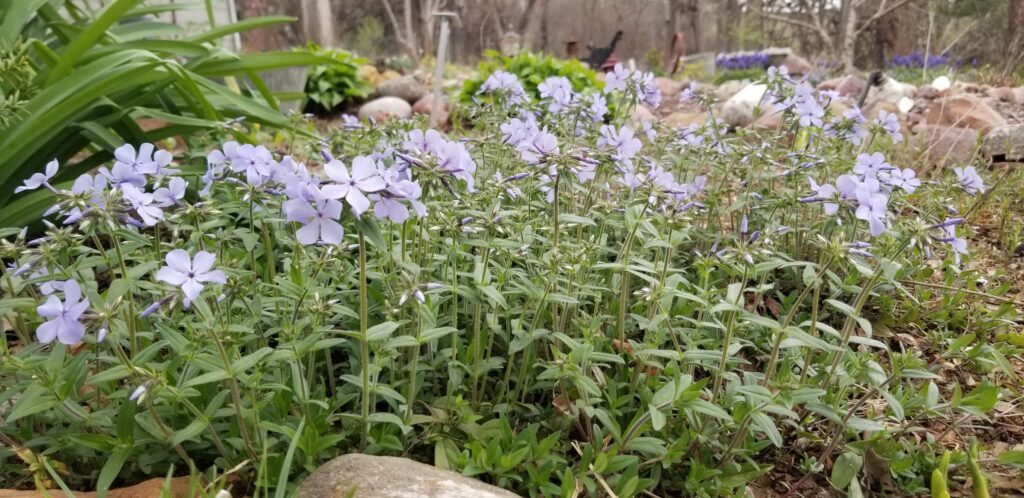 With over 20 species of columbines in North America, haw can you go wrong? I have red columbine, Aquilegia canadensis, growing wild in my woods. After collecting seeds, I spread it to my pawpaw grove, where I am cultivating pawpaws for their fruit. Depending on which species or cultivar you choose, columbine can grow between 1 an 3 feet tall and wide. Bumblebees and hummingbirds are the most common pollinators. A few moths and a butterfly use columbine as host plants.
Jack-in-the-Pulpit – Arisaema triphyllum
A unique plant with a unique flower structure, Jack-in-the-pulpit should be in everyone's woodland garden. The structure of the flower contains a spathe and spadix. The spadix is the flower, and is pollinated by fungus gnats and parasitoid thrips. Called a spathe, the outer sheath of the flower gives it the hood above "Jack". Hence the name Jack-in-the-pulpit.
Wild Geranium – Geranium macultatum
Also known as cranesbill, this pretty, clump-forming native often blooms longer than many of the other shade loving natives. The flowers are soft pink, sometimes white, and are visited by bees, flies, and butterflies. A couple of moths use it as a host plant. Wild geranium grows on the edge of the woodland, or in a glade, where it recieves 4 to 6 hours of sun per day. It grows 12 to 16 inches tall and wide.
Virginia Bluebells – Mertensia virginica
Of all the natives blooming early spring, this is probably the truest ephemeral. They start blooming almost before all the leaves are out. In 2022, I discovered a rare patch of native bluebells growing at Sycamore Springs in Brown County, KS. I was leading a wildflower hike and was excited to see something rare. Virginia bluebells have flower buds that are bright pink, and open to sky blue flowers. So there are often 2 colors on the plants when flowering. They grow 1 to 2 feet tall and form large colonies. They are pollinated by a number of insects, as well as hummingbirds.
Yellow Wood Poppy – Stylophorum diphyllum
I first became aware of this little woodland plant while on a trip to the Deanna Rose Farm in Overland Park, KS, with my kids' homeschool group. With dainty yellow flowers, reminiscent of poppies, it blooms in the woodland edge for several weeks. In my own garden, it has been a good reseeder. popping up in various places. It grows only 8 to 10 inches tall and wide. But its pollinated by bees and flies, while ants help move the seeds.
Bloodroot – Sanguinaria canadensis
Another plant which I first found while on a wildflower hike, this time at the Overland Park Arboretum. It was a most interesting experience. The juice or sap of the root of this plant does indeed have a red or blood-like appearance. Leaves arise first, just a day or 2 before the flowers, which open and bloom for only a few days. Interestingly, the petals are arranged in a squarish shape. The flowers are visited by bees, flies, and beetles. It grows 6 to 10 inches tall and forms large colonies.
Shooting Star – Dodecatheon meadii
Another true ephemeral, in my garden it seems to melt away after flowering, except for the seed stalk. Plants, not counting the flower stalk, grow 4 to 6 inches tall and 1 foot wide. The flower stalks arise and produce upside down flowers which resemble falling or shooting stars. They can be pink or white. Bees visit the flowers for pollen but there is no nectar for them.

Conclusion
These are only a few of the many plants blooming in March and April, but these are also the best ones for the garden. I have planted almost all of these in my gardens, and I hope that you try some of them too.
Happy planting!