I hope you had a Merry Christmas! This is the final installment on 2019 on the series of photos from my yard. Great things are coming in 2020, I hope you are ready for them!
The above flowers were all blooming in October and November. There are also some insects that were late comers. My son noticed the twice-stabbed lady beetle while playing on the trampoline-my kids are taught to not tough insects or bugs unless I give them leave to do so, especially caterpillars! The sassafras tree was an addition this spring to the Woodland Garden, where there is also a grove of pawpaws and other woodland plants (photos coming in 2020). The aromatic aster 'Raydon's Favorite' was the last thing to start blooming and bloomed the longest of any fall plant, from before the first frost to after the first hard freeze.
This is an October shot of the Woodland Shade Border. Not much going on in the woods this late in the season, but the semi-evergreen blue wood phlox (Phlox divaricata) is a standout border plant. I may remove the beautyberries next year, as they are not floriferous and have little to no fruit on them, then replace them with some more regionally native shrubs (Snowberry or Hazelnut).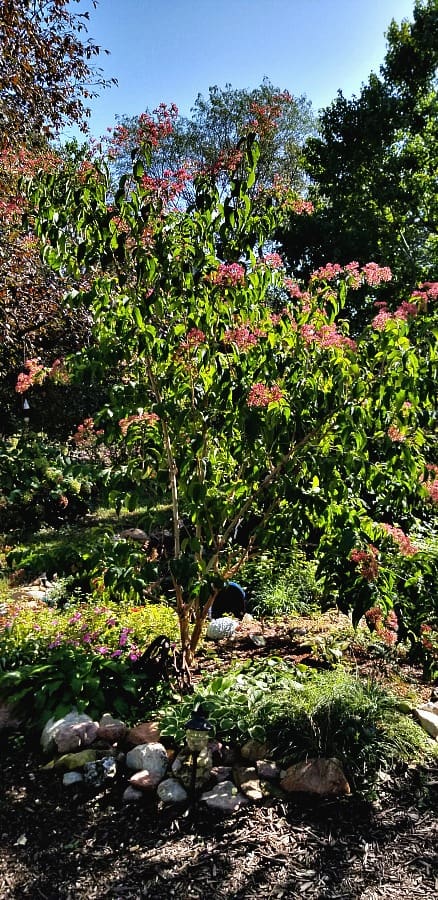 I was very happy with my Seven-Son Tree this year, it grew another 2 feet and was very nice for its bloom season and now again with the floral bracts in red. This part of the Entry Garden was once my Fairy Garden, but changes happen yearly in a growing garden like mine.
A late October view of the east yard containing the Tea Garden (Lower Left), Walnut Trial Bed (Top Center), Woodland Shade Border (Top Left), and the Shrub Display Bed (Top Right). The Shrub Display Bed starts just behind the bench there with my 'Prairie Fire' Crabapple, 1 of 3 Paperbark Maples, 'Annabelle' Hydrangea, Chinese Viburnum (un-named), peach tree, and Spicebush (not visible). The Shrub Display Bed then wraps around to the south and east along the driveway. There are currently about 20 different shrubs and trees in this bed including Kentucky Coffeetree, Aromatic Sumac, Nannyberry Viburnum, 'Emerald Triumph' Viburnum, Arrowwood Viburnum 'Blue Muffin', Mockorange, Serviceberry 'Regent', Common white & purple lilacs, Sweetshrub 'Aphrodite', Buttonbush, 'Green Giant' Arborvitae, and more.
This is my cat Ralph, he is a great sleeper but really loves to sit on the couch and watch the birds.
Our first snowfall came just a few days before Halloween but melt the same day as the temperatures reached the upper 40's.
This is 1 of 2 sugar maples in my yard. It must be related to the sugar maples planted around Hiawatha, it has excellent fall color, similar to 'Oregon Trail' but with more red than orange. My other sugar maple is pure gold, with no orange or red at all.
November shot of the Entry Garden, with aromatic aster 'Raydon's Favorite' still blooming away after the first frost. Everything else is going dormant.
Finally some pics of the Potager Garden (aka the vegetable garden). My 6 year old son always wants to do what I am doing in the garden, so I found the perennial shovel I received last Christmas from my mother-in-law, and he used it to dig soil. I moved this soil here 2 years ago from the garden, piled it and let it compost itself. Now we have been digging it out and moving it to the various raised bed areas around the garden.
This is the area we dug out the soil from, it will be turned into a walled bed area for vegetables, perennials, and annuals. The pallet fence will degrade over time, but will be replaced with a stone wall and mound to keep out rabbits and other garden critters. We also have a problem with coyotes and wolves coming into the garden to eat pears in the fall.
A first look at the partially filled raised beds. They are far from being complete, but with so much garden to maintain, I can only do a little at a time. For those who know me, they know I am pro-raised bed or hügelkultur. I will devote a blog post to this discussion in March.
This is the Fruit Patch in the Potager Garden. You can see where different fruits have been planted. I will also be adding raspberries and figs to this area in time, and maybe a few columnar apples. The pear trees are existing, coming with the property.
My younger kids enjoying the leaves on a warmer November day!
This is why we leave perennials and grasses up in the winter (also for overwintering insects and bird fodder).
In the last week of November I added new limestone steps to the front porch. I had steps there originally, but they were too low to the porch and it was difficult for an older person to use. I rescued 7 large cut limestone blocks from the dump and used 4 to add on to these steps (the top 4).
Most years, I add a lot of greenery to my porch and house for the Christmas, but this year I just did these hanging swags and the window box behind.
Here is a shot of the bed and wall inside the Potager Garden. I will likely add annuals between the stone wall and the pallet fence and put in perennials and vegetables below between the bricks and the wall.
I thought you would enjoy seeing what my front yard looked like shortly after we moved into the property in 2014. This is looking south from the porch into what is now the Entry Garden.
Happy New Year and Happy Planting!