Coneflowers have long been one of the most widely planted flowers in our gardens. I have seen an explosion of cultivars in the last 15 years, making it very difficult to choose which to grow. It seems as if you get a favorite, then its pulled for a new color and size. But, with so many options, you can get it wrong and still be happy.
Coneflower is a common name for several species of flowers, but most commonly used for Echinacea. There are 9 species of Echinacea, only found in North America. Here in the Central Great Plains region, we have 4 of those species. While all 9 species have been used in some form of plant breeding for new cultivars, purple coneflower (Echinacea purpurea) and pale purple coneflower (Echinacea pallida) have been used the most.
It is easy to see why I and many other gardeners love our coneflowers. They come in a variety of colors, the flowers can be single or double, they have few pest problems, and lots of pollinators use them. Not to mention that they are extremely drought tolerant and love full sun.
Kinds of Coneflowers
When it comes to choosing a cultivar, start with your local garden center or favorite online retailer. Here at Grimm's Gardens we have a favorite series, the Sombrero Series of coneflowers which holds up well in our weather and environment. We also have some individual cultivars that we like to keep on hand. But they do fly off the bench!
For me, just the simple species coneflowers are what grows best. I do have some favorite cultivars, but they are second place to native species. One thing I like about species coneflower is that they reseed themselves into the beds, while many of the cultivars do not.
Species of Coneflowers
There are 6 species that grow natively in the Central Great Plains/Ozarks region.
purpurea – perhaps the most well known, also is where most of the breeding in coneflowers comes from. Wide, dark green leaves. Very bushy in habit and the flowers are purple-pink.
pallida – also known as pale-purple coneflower, this one grows widely from Iowa to Texas. The leaves are narrow, and the flower petals are narrow, pale pink to sometimes white in color.
angustifolia – called Black Sampson, it grows from Canada to Texas and is the most cold-hardy of the coneflowers, making it valuable for breeding programs. The leaves are narrow and the flower petal (ray flowers) are shorter than purpurea or pallida. Pink petals.
atrorubens – known commonly as the Topeka coneflower, the ray petals are very short, making the flower unique looking. Found from Topeka, KS south into Oklahoma and Texas.
paradoxa – the Ozark coneflower or Yellow Ozark coneflower. This is the only species with yellow flowers, making it very important for breeding programs. It is tall, somewhat gangly. It tends to flop in my garden, and the rabbits eat it off in the spring (most echinaceas are deer and rabbit resistant).
simulata – the other Ozark coneflower, also called the Missouri purple coneflower. It grows only in the Ozarks and the Smoky Mountains of Tennessee. It looks very similar to pallida.
Series of Coneflowers
Most breeding programs put out series of flowers, that is, groupings of cultivars developed by the same person or breeder, with a catchy name. There are usually several colors or cultivars within a series.
Sombrero Series – this is our favorite series here at Grimm's and there are lots of colors to choose from. Most of the cultivars grow 2 feet tall and wide.
Color Coded Series
PowWow Series – we do sell some of these. The PowWow White is one of the best white flowers.
Supreme Series – of these, 'Cantaloupe' is a wonderful variety, award winning, and has apricot colored double flowers.
Double Scoop Series – has all double flowered cultivars.
Big Sky Series – was the big series before the Sombrero Series came out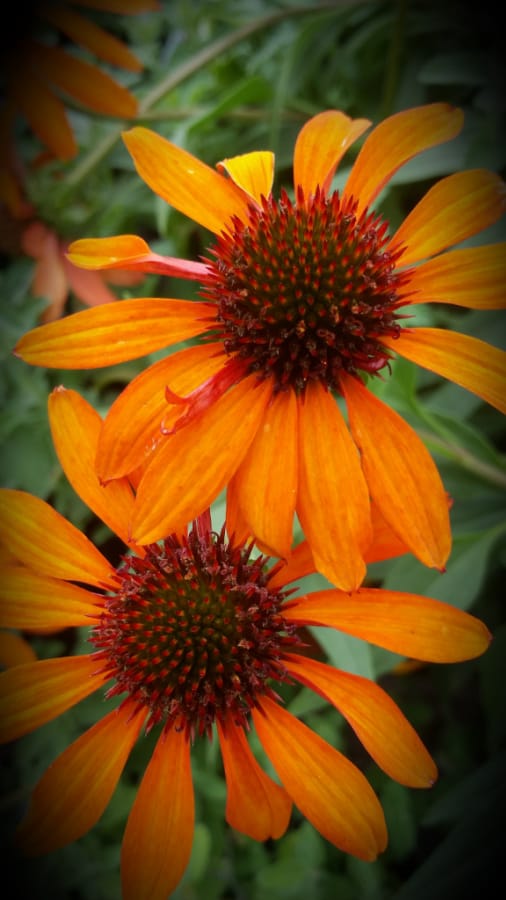 Other Cultivars (Not in a Series)
Sometimes cultivars are selected or bred by a single person, not part of a bigger company, and then does not put out a series. Individual cultivars like the following may be from those groups.
Green Jewel – has green flowers that are slightly rolled or scoop shaped. A cultivar of E. purpurea that grows 2 feet tall and wide.
Ruby Giant – is a large, pink flowering cultivar that grows 3 feet tall by 2 feet wide.
Tiki Torch – was and is still very popular. It grows 3 feet tall and 2 feet wide with large, fire-orange flowers.
Cheyenne Spirit – there have been many cultivars picked from this true-to-seed variety. Seeds from it grow into a variety of colors, making it a great addition to the cottage garden.
Fiery Meadow Mama – I saw this cultivar at a show and was entranced. The ray petals are red-orange near the cone and orange-yellow at the ends.
Fragrant Angel – found to be the best of coneflowers for pollinators by the Mt. Cuba Center, it has white flowers.
Pink Double Delight – an older cultivar with double pink flowers. It has done very well in one of my client's gardens, still living after 9 years.
Pests and Diseases of Coneflowers
While there are not very many pests or diseases of coneflowers, there are a some that need to be mentioned. One has no treatment other than removal and trashing of the plant. These need to be known.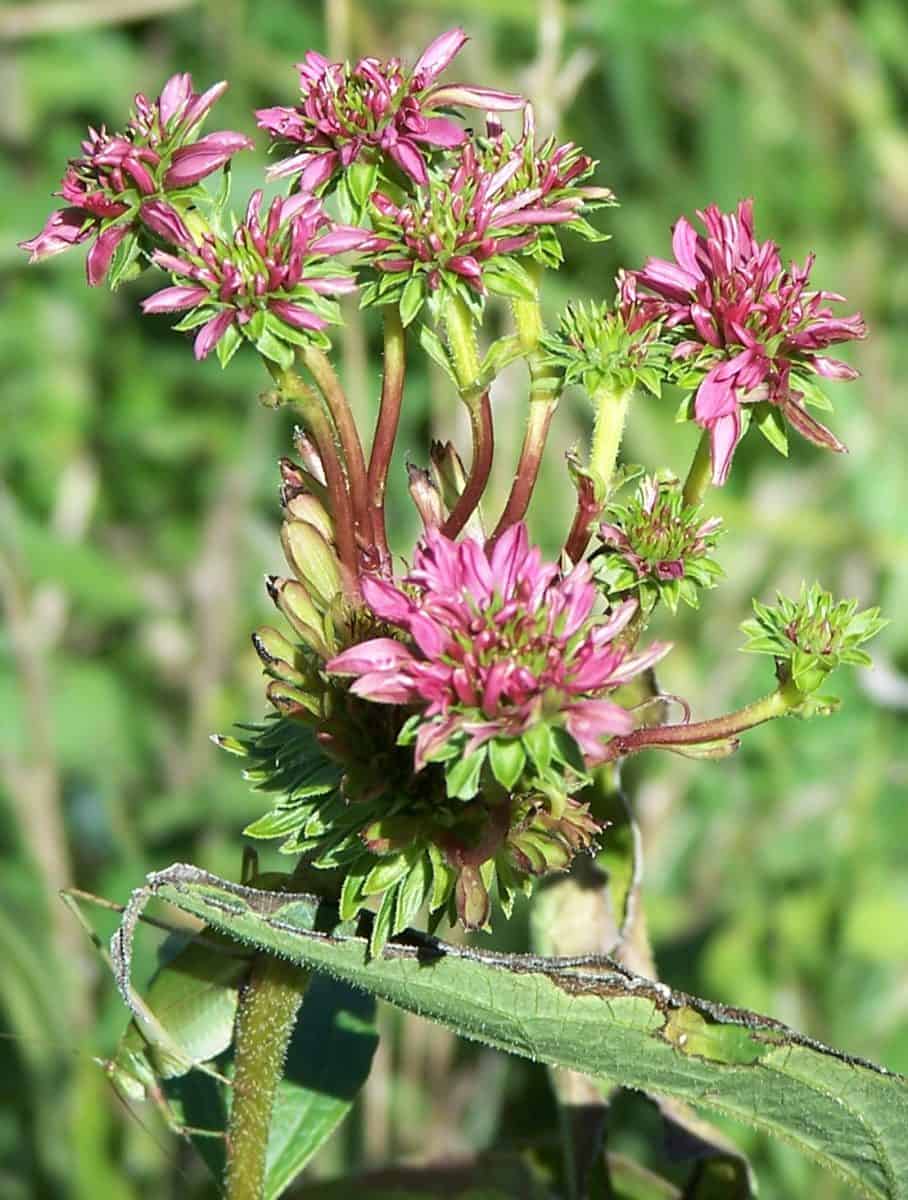 Diseases
Aster Yellows
This disease can affect not only coneflowers, but anything in the Aster Family. However, it is most common on Echinacea. Certainly I see more of it on plants in the nursery than anything else. Aster yellows is a viral-like disease vectored by planthoppers that suck the plant juices, thus transferring the disease from its gut to the plant.
Aster yellows first appears as greening of the flower buds and opening flowers, often with witches-brooms growth and stunting and yellowing of the leaves. There is no cure for the disease, affected plants need to be destroyed to prevent spread to other plants. DO NOT compost diseased plants; burn if possible, if not then bag and trash.
Powdery Mildew and Leaf Spots
I bundled these diseases together because they are not severe in damage to the plant, and both occur in warm, wet springs and summers. Powdery mildew causes a white, fuzzy appearance on the upper leaf surface. It can be cured by a fungicide or left alone. If the plants are growing in full sun locations they are less likely to get either powdery mildew or leaf spots.
Insect Problems of Coneflowers
The biggest insect problems of coneflowers are not problems at all, but rather moths and butterflies using the plant as a host for their larvae. Since we like this in our landscapes, encouraging them is easy. Let caterpillars be. There are a few leaf and flower chompers, but their damage is minimal and I do not recommend anything but handpicking.
Butterflies and Moths that use coneflowers as host plants
Blackberry Looper Moth
Wavy-Lined Emerald Moth – actually uses the petals as camouflage
Common Pug Moth
Sunflower Moth
Pollinators of Coneflowers
Because I keep a mass planting of purple coneflowers in the middle of my garden, I am able to constantly observe the various pollinators that land and sip. Also, I have several cultivars in my Sunny Cottage Garden bed at the rear of my house, and these too, I observe at. The following collages are photos of pollinators I have seen over the years on coneflowers.
Butterflies
Bees, Flies, and Beetles
Companion plants of coneflowers
One of the best things about purple coneflowers is that they look great in mass plantings. Even if they do get some powdery mildew in this planting type, it is worth it for the long flowering period, from May to September. It is great for pollinators and in winter, the seedheads are eaten by goldfinches. But what plants look great growing alongside coneflowers in other areas of the garden?
The following list contains 15 perennials that will either enhance or be enhanced by growing along coneflowers. Find some for your garden today!
Daisy 'Becky', 'Real Neat', 'Snowcap', 'Ooh La La Spider'
Agastache 'Black Adder', 'Blue Fortune', 'Little Adder'
Little Bluestem 'Standing Ovation', 'Carousel', 'Prairie Blues'
Switchgrass 'Shenandoah', 'Northwind'
Salvia 'Caradonna', 'May Night'
Rudbeckia 'Little Henry', 'American Gold Rush', 'Glitters Like Gold'
Coreopsis 'Jethro Tull'
False Sunflower 'Burning Hearts'
Conclusion
Coneflowers are perfect for any garden with full sun, dry to moderate soil, and one that can be found in zones 4 to 9. Use them in mass plantings, with companion plants, or in rows for cut flowers. The flowers attract many butterflies and other pollinators and the dry seedheads attract birds. What a plant!
Happy planting!